Publishing
New supplementary issue of the Journal of the British Academy
In 2021, the UK Government released its Net Zero Strategy, which laid out how the country would meet its legally binding carbon-based emissions target of no net greenhouse gas emissions by 2050. Recent developments have shown the importance of governance in the delivery of this target. These include the 2022 Committee on Climate Change progress report to Parliament and the 2023 independent review, led by Chris Skidmore MP (a former Energy Minister), which outlined that there was further work to be done at all governance levels and that all relevant stakeholder groups who will be involved in or are affected by the transition should be mobilised to ensure that the net zero target is met.
The British Academy Net Zero policy programme is examining net zero from a governance perspective and commissioned a series of essays on the topic. Emerging themes from the essays and programme emphasise the important role that leaders and people will play in net zero governance.
Governance Factors on the Road to Net Zero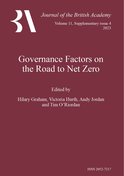 Publishing news
The British Academy continues to publish Open Access monographs that showcase the work of outstanding early career researchers. New titles include The Birth of Psychological War: Propaganda, Espionage, and Military Violence from WWII to the Vietnam War, by Jeffrey Whyte; Comparing the Worth of the While in Fiji and Finland, by Matti Eräsaari; and Media, Religion, Citizenship: Transnational Alevi Media and Its Audience, by Kumru Berfin Emre.
New Open Access British Academy Monographs
Publishing news
In a further bid to expand the accessibility of our publications we are now publishing ebooks of selected titles. Volumes now available as ebooks include Theoretical Linguistics in the Pre-University Classroom, edited by Alice Corr and Anna Pineda; Judicial Independence Under Threat, edited by Dimitrios Giannoulopoulos and Yvonne McDermott; and Imagining Andrew Marvell at 400, edited by Matthew C. Augustine, Giulio J. Pertile, Steven N. Zwicker. Titles that are available as ebooks can be purchased from your preferred ebook retailer.
Now available: Proceedings of the British Academy ebooks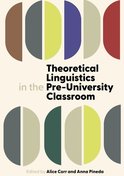 The COVID Decade
Evidence report
In November 2021, the British Academy, in partnership with the Academy of Medical Sciences, convened a roundtable on geographic and historic patterns of health inequalities in the UK. The roundtable followed a request from the UK government's Scientific Advisory Group for Emergencies (SAGE) in June 2021 to explore the geographic factors associated with historically poorer public health outcomes over the last 200 years.
Historic and Geographic Patterns of Health Inequalities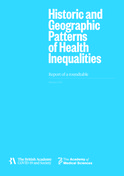 Evidence report
The British Academy was asked by the Government Office for Science to produce an independent review on the long-term societal impacts of COVID-19. This report outlines the evidence across a range of areas, building upon a series of expert reviews, engagement, synthesis and analysis across the SHAPE research community. It shows that COVID-19 has generated a series of social, economic and cultural effects which will have long-term impacts.
The COVID Decade: understanding the long-term societal impacts of COVID-19
Policy report
The British Academy has undertaken the substantial task of beginning to answer the longer-term question about what the societal impacts of COVID-19 will be and how we address them. This report sets out an interrelated set of nine areas of long-term impact, seven strategic policy goals and five key principles of a facilitative policy environment for 2030. We aim here to provide decision-makers with a sense of how to start to respond to these longer-term impacts based on the current evidence, and how to shape the COVID decade.
Shaping the COVID decade: addressing the long-term societal impacts of COVID-19