Early Career Researcher Network
An inclusive, researcher-led network for UK-based early career researchers working in the humanities and social sciences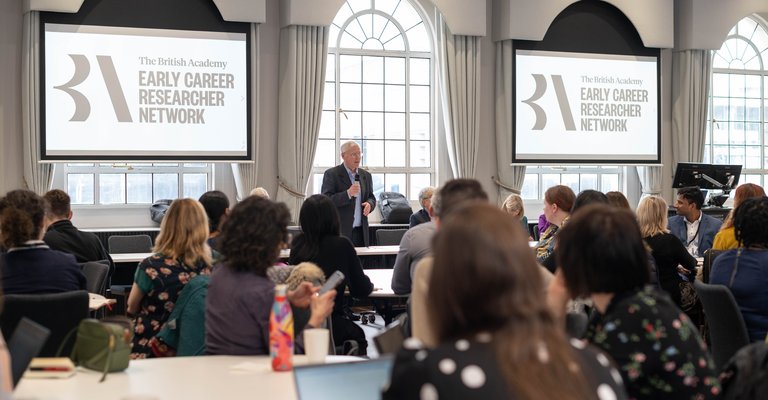 About us
We are delighted to announced that The Wolfson Foundation will continue to support the British Academy's Early Career Researcher Network for a further 3-years so the Network can expand nationwide.
The Network was launched in Autumn 2021 in partnership with the Wolfson Foundation, who agreed to support the pilot phase which was intended for an initial two years. However, as a result of a successful pilot the Network will now continue for the next three years. The overall ambition is for the Network to be a permanent and long-lasting programme.
The Early Career Researcher Network is an inclusive, researcher-led membership body accessible to all UK-based early career researchers (ECRs) working in the humanities and social sciences – regardless of their funding source or background.
Our objectives include:
Creating an environment where ECRs can strengthen their skills and professional networks to compete effectively in the job market.
Being responsive to the needs and interests of ECRs, ensuring that these inform our activities and the opportunities we offer.
Supporting individual ECRs to realise their potential by providing opportunities that they do not currently have access to.
Contributing to equality of opportunity for ECRs through encouraging diversity and inclusivity.
Developing networks to nurture and facilitate greater engagement between and across ECRs and the wider research community, regionally and nationally.
Drawing on the Academy's unique ability to convene and nurture intersectoral collaboration to create unique opportunities for ECRs.
Enabling the British Academy to support a greater number of ECRs in their career ambitions – through skills development, networking opportunities, workshops and events.
Over the last two years the Network has been operating in the Midlands, South West and Scotland. The Academy is working with Institutions in these areas to deliver the Network. To read more about the pilot phase and how the Network has progressed over the last few years, please click here to read the Evaluation.
A network 'by ECRs, for ECRs'
What ECR Network members say:
"The Network has been a valuable platform for me to connect with other like-minded researchers, not just in my regional area, but across the UK. As a result of the online platform, I have just submitted a conference paper with another member of the network who is researching in a similar area to myself. We plan to develop this conference paper into a journal paper and are actively looking for funding opportunities to develop this exciting research area together. If it wasn't for the ECR Network I might never have had this opportunity." – Sarah Preedy, ECR, South West Hub
"As Peris always emphasises, my experience of The British Academy ECR Network is not only for, but also by ECRs. I have attended so many valuable sessions organised and led by ECRs and also myself organised a couple of events with the ECRs from the Network. The British Academy enables ECRs with rare resources accessible to ECRs!" – Eun Sun Godwin, ECR, Midlands Hub
"For me, the Network has opened doors to areas I never thought I could be part of and allowed me to have conversations with like-minded individuals who see the best of the world we live in." – Glykeria Skamagki, ECR, Midlands Hub
"Being new to the UK, I find ECR Network a perfect tool for networking in a new research environment. The range of activities they offer has been impressively broad: from familiar conference formats to informal sessions to discuss your day-to-day research-related issues, media trainings and narrative CV sessions. The Network team has been doing an amazing job in keeping things relevant to what their members are looking for." – Daria Morozova, ECR, Scotland Hub
"I am finding the network beneficial. It keeps me abreast with important information linked to contemporary research issues and what other ECRs are doing. The emails that I get here and there act as indirect reminders that I am an Early Career Researcher!" – Patience Chinyenze, ECR, Midlands Hub
"The BA ECR Network has been invaluable to me as someone who did not take the most conventional route into academia. I joined the network without a position and with minimal contacts in the industry. I am now working as a postdoc, I am involved in several collaborative projects, and I am working towards a fellowship application. This would not have been possible without the Network." – Christopher Dodd, ECR, Midlands Hub
"It has been exciting getting to meet other ECRs knowing about our shared challenges and how they can be tackled. It has also been great attending sessions on topics that are important for career development such as writing a narrative CV, engaging with policy makers and engaging with the media." – Agnes Nanyonjo, ECR Midlands Hub
Professor Simon Swain FBA, Vice-President for Research and Higher Education Policy at the British Academy:
"This exciting new initiative will give crucial support to early career scholars from all backgrounds, affiliations, and locations who work in the humanities and social sciences. The network will offer support to build successful careers, to open up academic and policy debates, to meet in person and online, and in a word will help them to become our subjects' future leaders.
The British Academy is passionate about fighting for the humanities and social sciences. Our disciplines create the insights we need to confront the challenges everyone faces. Solid support to grow a strong community of researchers at this key stage is an essential part of our mission to keep SHAPE disciplines thriving and relevant."
Sign up to our email newsletters