Early Career Researcher Network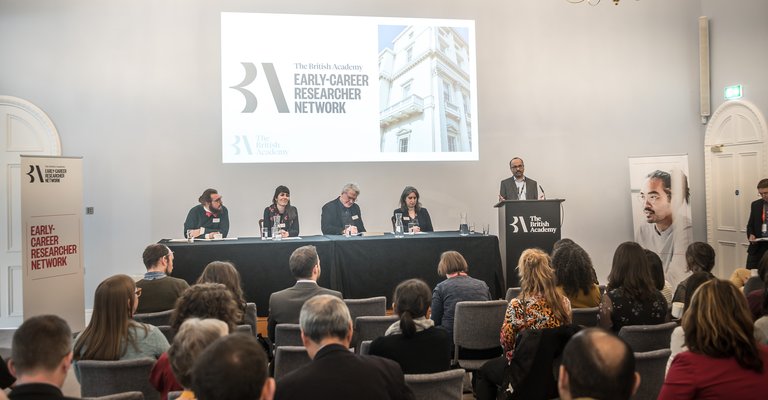 "This exciting new initiative will give crucial support to early career scholars from all backgrounds, affiliations, and locations who work in the Humanities and Social Sciences. The network will offer support to build successful careers, to open up academic and policy debates, to meet in person and online, and in a word will help them to become our subjects' future leaders.
The British Academy is passionate about fighting for the Humanities and Social Sciences. Our disciplines create the insights we need to confront the challenges everyone faces. Solid support to grow a strong community of researchers at this key stage is an essential part of our mission to keep SHAPE disciplines thriving and relevant."
Professor Simon Swain FBA, Vice-President for Research and Higher Education Policy at the British Academy
About us
The Academy in partnership with the Wolfson Foundation is piloting for two years an Early Career Researcher Network for Early Career Researchers in the humanities and social sciences.
The Academy aims for the network to be a researcher-led and an inclusive humanities and social sciences network, accessible to all researchers regardless of their funding source or background. This will ultimately be a UK-wide network tailored to researchers at postdoctoral level in the humanities and social sciences disciplines.
The network will be responsive to the needs and interests of the researchers and enable the British Academy to support a greater number of researchers in their career ambitions, through skills development, networking opportunities, workshops, and events.
Between Autumn 2021 and Spring 2023 the network will be rolled out in three regions across the UK. The Academy will be working in partnership with institutions in these regions to successfully deliver the network. The ambition after the two years is to roll out the network nationwide.
Objectives
A UK-wide network for all Social Sciences and Humanities researchers from a broad background, including those that are Academy funded, and those that are not. The network aims to create an environment where researchers can strengthen their skills and networks to compete effectively in the job market. Researcher interests will inform the activities and opportunities the network will offer.
The objectives of the network are:
To support the individual researchers to realise their potential by providing opportunities that they do not currently have access to.
To contribute to equality of opportunity for researchers through encouraging diversity and inclusivity.
To develop networks to nurture and facilitate greater engagement between and across researchers and the wider research community, regionally and nationally.
To draw on the Academy's unique ability to convene and nurture intersectoral collaboration to create unique opportunities for researchers.
Key information for researchers
Regional and National Hubs and sign up
What researchers say
"I'm delighted that the British Academy is starting this ECR Network. Meeting other researchers through the network, sharing information and experiences of the academic workplace and job market, as well as our enthusiasm for our research, could really enrich the lives and work of early career researchers in the UK."
Matthew Duncombe, ECR
"This ambitious scheme addresses a growing need for early-career researchers: tailored support and interconnection."
Esther van Raamsdonk, ECR
Contact us
To contact the British Academy ECR Network team, please email: ecr_network@thebritishacademy.ac.uk
Sign up to our email newsletters