Encourage students to futureproof themselves by choosing a mix of arts and science subjects, teachers and parents urged
17 Aug 2023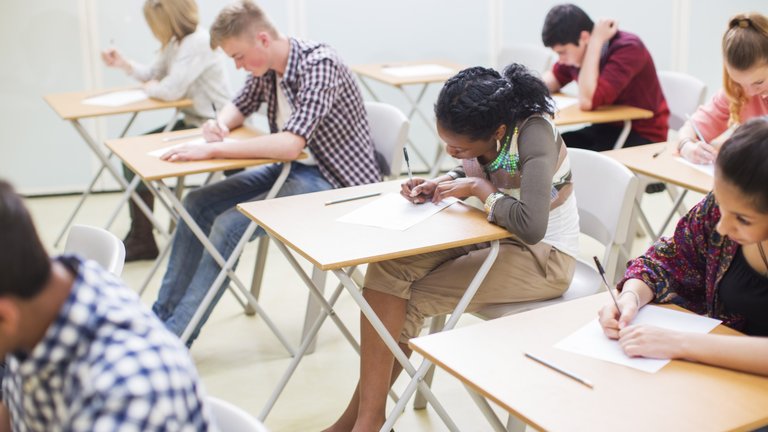 As A level students pick up their results, the Presidents of two leading institutions have called on teachers and parents to encourage students to take a broad and balanced selection of subjects to future-proof themselves, the workforce and society.
In a joint comment piece written exclusively for Times Educational Supplement, Professor Julia Black – President of the British Academy – and Dr Anne-Marie Imafidon – President of the British Science Association – have called on teachers, parents and students themselves to "consider the benefits of a broad and balanced subject portfolio across the humanities, the sciences and the social sciences."
They said: "For a long time now, politicians have talked down the value of arts and humanities, placing instead a heavy emphasis on exclusively STEM skills – a move underlined with the push to make the study of maths compulsory after GCSE. This may once have been beneficial in arresting the decline in STEM skills, but what we now have is an imbalance with maths, biology, chemistry and physics rising but English, modern foreign languages and arts-based subjects all either declining or stagnating.
"With so many challenges, we need today's students to become the bold and effective leaders, entrepreneurs, innovators and researchers of tomorrow. To do so, they will need a truly broad range of skills, expertise and experience."
The call comes as A level data released today by the Joint Council for Qualifications (JCQ) paints a mixed picture of the health of the SHAPE disciplines (Social Sciences, Humanities and Arts for People and the Economy) in Wales, England and Northern Ireland.
Six of the top 10 most popular subjects are SHAPE disciplines: psychology, history, sociology, business studies, art & design and economics.
Over the past year, student entries for modern foreign languages such as French (-11%) and Spanish (-11%) have continued to fall. Last year's results had shown a slight increase of 4% in German which bucked a long-term negative trend, but this year's entries show its popularity dropping again (-16%). Other foreign languages such as Arabic and Chinese have shown a slight increase in entries, although entries for these languages are still below where they were in 2019. Along with other voices in UK Higher and Secondary Education, the British Academy is calling for a National Languages Strategy to help meet the UK's education and skills needs for the 21st century.
The social sciences landscape is more positive with continued growth in student entries across a range of subjects. Entries have risen for business studies (+6%), economics (+7%) and sociology (+5%) this year, building on long-term trends.
Media, film and TV studies entries have also grown (+10%), but entries for other arts subjects such as drama (-8%), music (-7%) and performing / expressive arts (-13%) have fallen.
Classical subjects have shown strong short and medium-term growth (+21%), but entries are still below where they were a decade ago.
There has been a slight increase in English literature entries (+3%) since last year, but the data show a decline in English A levels persists otherwise. However, entries for English in Scotland are more mixed, with a 4% year-on-year increase in entries at Higher Level, and a 5% decrease at Advanced Higher Level. Earlier this year the British Academy published an in-depth look at English Studies across the UK.
The British Academy recently launched Connected Knowledge, a campaign to demonstrate and celebrate the impact of different disciplines, subjects and sectors coming together, particularly those across SHAPE and STEM.
Professor Julia Black, President of the British Academy, said:
"Our rapidly changing world calls for a flexible, multilingual workforce that communicates and collaborates, excels at analysis and problem-solving and thinks critically and creatively. Yet students are too often steered into one of two categories of subjects – SHAPE (Social Sciences, Humanities and the Arts for People and the Economy) or STEM (Science, Technology, Engineering and Maths) – with adverse consequences for students themselves, and society.
"That is why we have recently launched our Connected Knowledge campaign, to demonstrate that SHAPE and STEM are equal knowledge partners, that their insights, skills and research are often of most benefit when combined, and that their value is often intrinsically interlinked.
"For that reason, we are urging the next generation of A Level students to consider the benefits of a broad and balanced subject portfolio, to embrace the opportunities that a varied skillset presents and futureproof themselves and society."
Further information on A level entry trends and data is provided via the SHAPE Indicators. Through its SHAPE Observatory function, the Academy will continue to monitor the health and development of the SHAPE subjects at system-wide and discipline-specific levels.
Sign up to our email newsletters