Purposeful business in policy, practice and business education: September 2021 purpose summit and report launch
Wed 22 - Fri 24 Sep 2021
Accessibility

Live subtitling
Online event
Over the last four years, the British Academy's Future of the Corporation programme has brought together talented groups of academics, business leaders, investors, civil society leaders and policymakers to explore how business can solve problems for people and the planet.
Join us for the launch of our third and final report, "Policy and Practice for Purposeful Business" and a series of discussions on adapting business education to purpose:
1. Launch of the final Future of the Corporation report, "Policy and Practice for Purposeful Business" 
Wednesday 22 September, 14:00-15:30 BST
The conclusion of the Future of the Corporation programme sets out how to embed purpose in the heart of business through a set of proposals brought together for the first time.  The report highlights the extraordinary opportunity presented by the groundswell of innovation in how business can become more purposeful.  The proposals it brings forward identify the accountability and implementation mechanisms that will be required to bring about a shift to purposeful business.
Welcome: Professor Julia Black PBA, President, The British Academy
Introduction: Professor Colin Mayer FBA, Peter Moores Professor of Management Studies, Said Business School, University of Oxford

Moderator: Andrew Edgecliffe-Johnson, US Business Editor, Financial Times
Panellist: Mark Babington, Executive Director for Regulatory Standards, The Financial Reporting Council
Panellist: Lord Karan Bilimoria, President, The Confederation of British Industry
Panellist: Jon Geldart, Director General, Institute of Directors
Panellist:Julia Hoggett, Chief Executive, The London Stock Exchange
Panellist: Catherine Howarth, Chief Executive, ShareAction
Panellist: Anne Simpson, Managing Investment Director, Board Governance & Sustainability, CalPERS
2. Adapting business education to purpose
Thursday 23 September 2021, 11:00-12:00 BST – How can the professions integrate purposeful business into qualifications and practice?
Moderator: Professor Teerooven Soobaroyen, President, The British Accounting and Finance Association
Panellist: Sophia Adams Bhatti, Head of Strategy and Policy, Simmons-Wavelength
Panellist: Richard Gillingwater, Chair, Janus Henderson
Panellist: Sharon Machado, Portfolio Head of Business Reporting, The Association of Chartered Certified Accountants
Panellist: Tan Suee Chieh, Immediate Past President, The Institute and Faculty of Actuaries
Thursday 23 September 2021, 15:00-16:00 BST – How can universities integrate purposeful business into teaching and the student experience?
Moderator: Dr Molly Morgan Jones, Director of Policy, The British Academy
Panellist: Tim Chapman, Director of Infrastructure Design, ARUP
Panellist: Professor Jonathan Grant, Professor Public Policy at the Policy Institute, King's College London
Panellist: Bruno Roche, Founder & Executive Director, Economics of Mutuality
Panellist: Arshiya Sawhney, Economics Undergraduate Student, University College London
Panellist: Jo Swinson, Director, Partners for a New Economy
Friday 24 September 2021, 11:00-12:00 BST – How can business schools integrate purposeful business into teaching and research?
Moderator: Andrew Jack, Global Education Editor, Financial Times
Panellist: Professor Julia Balogun, Dean of the Management School, University of Liverpool
Panellist: Caryn Beck-Dudley, President and Chief Executive, The Association to Advance Collegiate Schools of Business (AACSB)
Panellist: Anne Kiem, Chief Executive, The Chartered Association of Business Schools
Panellist: Dan LeClair, Chief Executive, The Global Business School Network
Panellist: Professor Mette Morsing, Head of Principles for Responsible Management Education, UN Global Compact

With the business leaders of tomorrow emerging from a spectrum of courses and backgrounds, it is crucial that the concepts of purposeful business are embedded in how business is taught in a range of settings. Over three sessions, we will explore the role of business courses, the role of the professions, and the role of SHAPE and STEM courses. 
Our recent purpose summits have also seen Al Gore, Mark Carney, LSE Director Minouche Shafik, Microsoft CEO Satya Nadella and FT Editor Roula Khalaf among others, calling for purpose to be put at the heart of business.
Register now to receive a copy of the Future of the Corporation report, updates on the line-up, reminders and details of the recordings after the event concludes. By registering you will receive updates for all parts of the event.
Connection details: the event will be hosted on the British Academy website, no password, special software or code is required.  When you register you will receive an email with links to add the events to your diary, and you will receive reminders with the joining instructions a week before the event.  If you have any access requirements, please notify us on the registration form.
With thanks to our supporters and partners: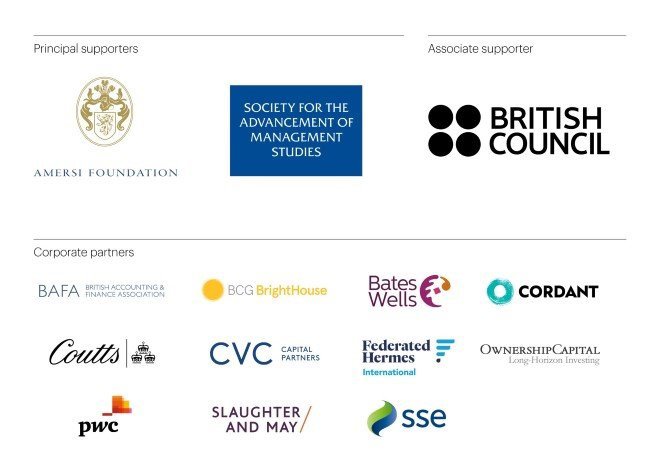 Sign up to our email newsletters