More than Just Mosaics: The Ancient Synagogue at Huqoq in Israel's Galilee (Schweich Lectures on Biblical Archaeology)
Thu 8 Dec 2022, 18:30 - 19:45
Accessibility

Baby changing facilities
Wheelchair accessible venue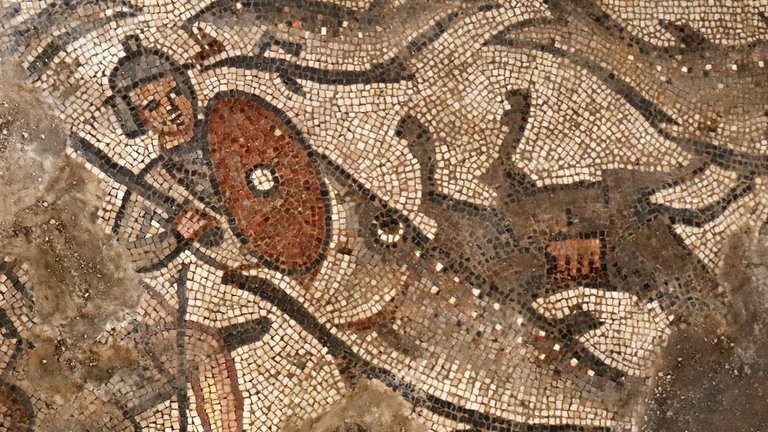 Venue

The British Academy

Price

Free

Event series
Delivered by the most outstanding academics in the UK and beyond, the British Academy's flagship lecture
programme showcases the very best scholarship in the humanities and social sciences.
Since 2011, Professor Jodi Magness has been directing excavations in the ancient village of Huqoq in Israel's Galilee. The excavations have brought to light the remains of a monumental Late Roman (late fourth-early fifth century C.E.) synagogue building paved with stunning and unique mosaics, including biblical scenes and the first non-biblical story ever discovered decorating an ancient synagogue. In this slide-illustrated lecture, Professor Magness will review these exciting finds, including the discoveries made in the latest season.
This lecture is the third of the 2022 Schweich Lectures series:
Lecture one: 'Ancient Synagogues: An Introduction' (5 December)
Lecture two: 'The History of Ancient Synagogue Studies and the Dating of Galilean-Type Synagogues (6 December)
Lecture three: 'More than Just Mosaics: The Ancient Synagogue at Huqoq in Israel's Galilee'. (8 December)
Speaker: Professor Jodi Magness, University of North Carolina at Chapel Hill
Professor Jodi Magness is a member of the American Academy of Arts and Sciences (category of Philosophy and Religious Studies). She holds a senior endowed chair in the Department of Religious Studies at the University of North Carolina at Chapel Hill: the Kenan Distinguished Professor for Teaching Excellence in Early Judaism. From 1992-2002, Magness was Associate/Assistant Professor of Classical and Near Eastern Archaeology in the Departments of Classics and Art History at Tufts University, Medford, MA. She received her B.A. in Archaeology and History from the Hebrew University of Jerusalem (1977), and her Ph.D. in Classical Archaeology from the University of Pennsylvania (1989). From 1990-1992, Magness was Mellon Post-Doctoral Fellow in Syro-Palestinian Archaeology at the Centre for Old World Archaeology and Art at Brown University.
This lecture will be chaired by Professor Judith Lieu FBA, University of Cambridge
Schweich Lectures on Biblical Archaeology
In 1907, in memory of her father Leopold, Miss Constance Schweich endowed a fund 'devoted to the furtherance of research in the archaeology, art, history, languages and literature of Ancient Civilisation, with reference to Biblical Study'. One fruit of the fund was the foundation of this lecture series. The lecture was first delivered in 1908.
Papers from each lecture are published together in book form. The Schweich Lectures are a highly regarded forum on Biblical Archaeology: the popularity of these volumes has remained undiminished over the years and there have been many reprintings.
If you have any questions about this event, please email [email protected].
Image: Detail from an ancient mosaic of a fish swallowing one of the Pharaoh's soldiers in the parting of the Red Sea in the nave of the Synagogue at Huqoq. Photographs by Jim Haberman.
Sign up to our email newsletters