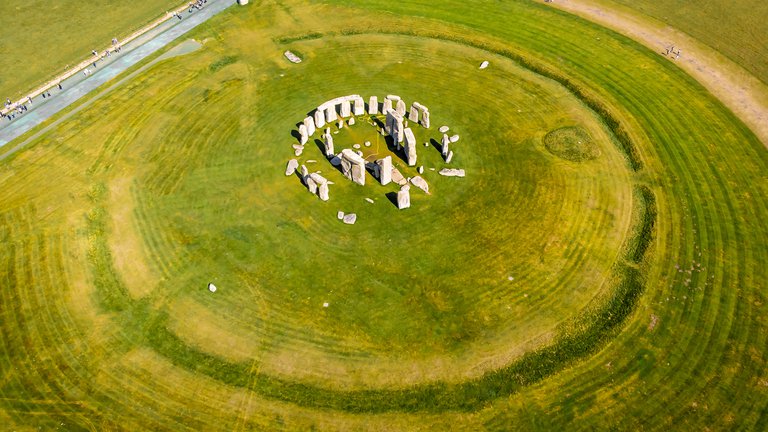 Four stones are all that remain at the Waun Mawn site in west Wales, at what would have been the third biggest stone circle in Britain. Was this monument dismantled and moved 230km (140 miles) to Salisbury Plain, to be rebuilt as Stonehenge?
The find goes a long way to solving the mystery of why the Stonehenge bluestones were brought from so far away, when all other stone circles were erected within a short distance of their quarries. The Waun Mawn site is close to the quarries for the bluestones, which were only identified in the past 10 years. Archaeological excavations in 2018 revealed empty stoneholes, confirming that the four remaining stones at Waun Mawn were part of a former circle. Scientific dating of charcoal and sediments in the holes confirmed that the Waun Mawn stone circle was put up around 3400 BC. The discovery that the monoliths had been extracted before the first stage of Stonehenge was built in 3000 BC prompted the team to reinvestigate the nearby Waun Mawn stones, to find out whether they were the remains of a circle of stones supplied by the quarries, that were then dismantled to build Stonehenge.
10-Minute Talks: The origins of Stonehenge
Listen to the podcast
Similarities in the stones
The results of this research reveal significant links with Stonehenge. Both monuments were aligned on the midsummer solstice sunrise. The Waun Mawn circle also had a diameter of 110 metres; the same as that of the ditch that encloses Stonehenge. This makes it the third largest stone circle in Britain, after Avebury in Wiltshire and Stanton Drew in Somerset. It is also one of the earliest, along with circles in north Wales and Cumbria. Another link showed that one of the bluestones at Stonehenge has an unusual cross-section, which matches one of the holes left at Waun Mawn. The chippings in that hole are of the same rock type as the Stonehenge stone.
Waun Mawn also confirms that the Preseli region of Wales was an important and densely settled place in Neolithic Britain, within a concentration of tombs, known as dolmens, and large enclosures. Stonehenge's bluestones have long been known to come from the Preseli Hills of Wales, and are thought to have been the first to be erected at Stonehenge 5,000 years ago, centuries before the larger sarsen stones were brought just 24km (15 miles) to the monument. Yet evidence of activity in the 1,000 years after 3000 BC is almost non-existent. People may have migrated, taking their stones – their ancestral identities – with them. Recent isotopic analysis of people buried at Stonehenge when the bluestones are thought to have arrived, reveals that 15 per cent of them came from western Britain, very possibly west Wales. With an estimated 80 bluestones put up on Salisbury Plain at Stonehenge and nearby Bluestonehenge, it could be that Waun Mawn was not the only stone circle that contributed to Stonehenge and there are more in Preseli waiting to be found.
Finding a lost stone circle
Finding the Waun Mawn stone circle was not easy. Although the remaining four stones were suspected to be a part of a circle as long ago as 2010, geophysics proved unproductive. However, in 2017, a trial excavation was carried out at Waun Mawn and found two empty stoneholes. As the ground was unsuitable for geophysics, only digging would reveal the buried stoneholes.
The missing stones of Waun Mawn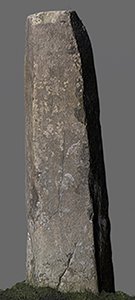 The excavations have identified holes for six of the missing stones of Waun Mawn. The complete circle likely numbered 30-50 stones. These were arranged more irregularly than at Stonehenge, although two were positioned as 'gunsights', forming an aligned entrance on the midsummer solstice sunrise. Optically stimulated luminescence (OSL) dating, which measures the length of time since quartz was last exposed to sunlight, indicates that the circle was constructed between 3600-3200 BC. A gap in the sequence of radiocarbon dates reveals an absence of any activity between 3000-2000 BC.
It is the hidden information preserved in the soils that provides the chronology for the construction.
– Tim Kinnaird, OSL Specialist, University of St Andrews
Medieval myths
The oldest story of Stonehenge's origins comes from the 12th century, when Geoffrey of Monmouth recorded the legend of Merlin taking an army to Ireland to capture a magical stone circle, the Giants' Dance, and rebuild it as Stonehenge, a memorial to the dead. Geoffrey's largely fake History of the Kings of Britain has few accurate facts, but his Stonehenge story has intrigued historians and archaeologists – might it contain a grain of truth? With no writing in prehistory, such a legend would have had to be passed down by word of mouth for several thousand years; unlikely, but not impossible. Is Waun Mawn the Giants' Dance?
---
Professor Mike Parker Pearson FBA is Professor of British Later Prehistory at University College London. He has co-directed excavations at Stonehenge and its world heritage site since 2004 with Josh Pollard, Colin Richards and Kate Welham. Their team of specialists includes Dave Shaw and Jim Rylatt (excavation), Adam Stanford (aerial photogrammetry), Ellen Simmons (charcoal analysis), Tim Kinnaird (OSL dating), Kevan Edinborough (radiocarbon dating), Clive Ruggles (archaeoastronomy), Richard Bevins and Rob Ixer (geology).
Further reading
The original Stonehenge? A dismantled stone circle in the Preseli Hills of west Wales
Lead image: Aerial view of Stonehenge in summer.
Sign up to our email newsletters