Professor Carole Hillenbrand FBA
Islamic history 1050-1250, especially Iran and Syria; Muslim perspectives of the crusades, the scholar al-Ghazali and the caliphate.
Elected 2007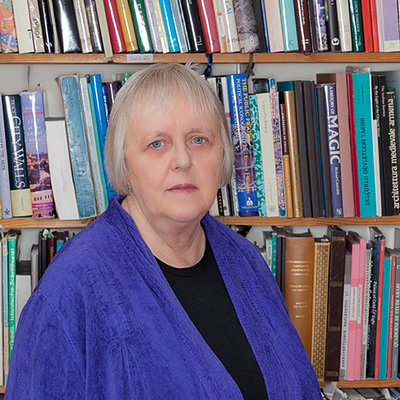 Year elected

2007

Honours

CBE, FRSE
Professor Carole Hillenbrand (D. Litt., CBE, FBA, FRSE) studied French, German, Romance Linguistics and Medieval Latin B.A. at the University of Cambridge, graduating in 1965. After working in the Administrative Class of the Civil Service in the Ministry of Aviation (1965–67), she studied for a B.A. at Oxford in Arabic and Turkish (1968–72) and during that period she and her husband spent one year in Iran. She was awarded a PhD in Arabic at the University of Edinburgh in 1978. She taught Arabic, Persian and Islamic History at the Department of Islamic Studies there from 1979 to 2008. She was awarded a Chair of Islamic History in 2000. She taught medieval Islamic history at the University of St Andrews from 2014 to 2021. In 2021 she was awarded a D.Litt at the University of St Andrews.
She has travelled widely in the Arab world, Iran and Turkey and enjoyed Visiting Professorships at Dartmouth College, New Hampshire, USA, in 1994 and 2005, at the University of Groningen, The Netherlands in 2002, and five times at St Louis University, Missouri, USA.
In 2005, she was awarded the celebrated King Faisal Prize for Islamic Studies, (the first non-Muslim and the first woman to receive the prize) for her book The Crusades, Islamic Perspectives (1999). In 2016, she won the British Academy's Nayef Al Rodhan Prize for Global Cultural Understanding for her book Islam, A New Historical Introduction (2015).
She has written eight single-authored books and published four edited books and sixty-three articles.
She has undertaken public service in a variety of ways. Among her important roles, she has been Islamic Advisory Editor at Edinburgh University Press since 1982. She served as Examiner for the History of the Islamic World, International Baccalaureate (1993–2002) and as Vice-President of the British Society for Middle Eastern Studies (2003–2009). She has been a Judge on the Wolfson Book Prize since 2018. She has given invited lectures on Islamic studies in Europe, the Middle East, Pakistan and the USA – these talks were given in English, Arabic, French or German. In 2019, she received, with her husband Robert Hillenbrand FBA, the Medal of the Royal Asiatic Society – the Society's highest award given periodically in recognition of outstanding contributions to the field of Asian studies.
Current post
University of St Andrews
Honorary Professor of Islamic History
2021

-
University of Edinburgh
Professor Emerita of Islamic History
2008

-
Past appointments
University of St Andrews
Professor of Medieval Islamic History
2014

-

2021
University of St Andrews
Professorial Fellow (Islamic History)
2013

-

2021
Dartmouth College
Visiting Professor
2005

-

2005
University of Groningen
Visiting Professor
2002

-

2002
Dartmouth College
Visiting Professor
1994

-

1994
University of Edinburgh
Professor of Arabic, Persian and Islamic History
1979

-

2008
Sign up to our email newsletters