What life was like as a suffragette organiser
by Professor Krista Cowman
6 Feb 2018
Everybody knows about the Women's Social and Political Union (WSPU) its suffragettes and its colours of purple white and green.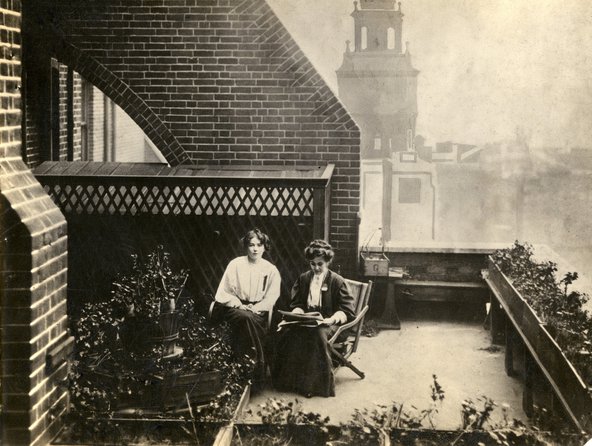 The Pankhursts on the roof at Clements Inn, 1908.
Its leaders, Emmeline and Christabel Pankhurst, are famous. So are some activists: Mill girl Annie Kenney, with Christabel the first suffragette prisoner; Emily Wilding Davison who died under the hooves of the King's horse at the 1913 Derby; Sylvia Pankhurst, the socialist sister who worked in the East End. Most people understand that the Union organised large marches on Parliament, mass window-smashing in London's West End and hunger strikes prompting forcible feeding in Holloway Gaol.
Annie Kenney and Christabel Pankhurst, c.1905-1912.
The face of the Women's Social and Political Union
What fewer people realise is that the WSPU was not just a Metropolitan, family affair. It was a national organisation with branches across the country. These were run by local organisers - full-time suffrage workers paid a few pounds a week (about the same as a Board School teacher). For many suffragettes who never went to London, organisers were the face of the Union, more familiar and more important than the national leaders. The centenary of the Representation of the People Act that gave votes to (some) British women is a perfect moment to remember their work.
A British Academy Small Grant in 2002 facilitated my research on the WSPU's paid organisers. This was a complicated project as there are no central records. Organisers' papers are scattered over private and public archives throughout Britain, Australia and the USA. Without travel money, (and the help of a sympathetic archivist in Melbourne who supplied photocopies for much less than the price of an airfare) research would have been impossible.   
Women workers from diverse backgrounds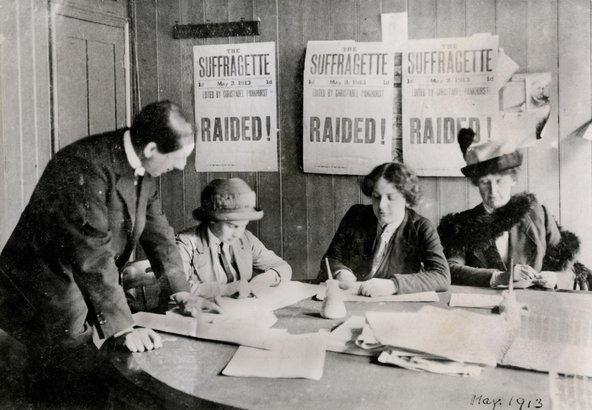 A Women's Social & Political Union (WSPU) office, 1913.
I found that about 150 women were employed as full-time organisers alongside part-time and voluntary workers. They came from diverse backgrounds. Former factory girls like the Kenney sisters and ex-pupil teachers such as Mary Gawthorpe worked side-by-side with the wives and daughters of merchants, army officers and doctors. Even the aristocratic Lady Constance Lytton accepted a WSPU salary, explaining how this freed her to do suffrage work without using her family money.
The role of organisers outside of London
Organisers could be sent anywhere in the country. Some were itinerant campaigners at by-elections or 'working up' a new area or recruiting volunteers for large national events; others had their own branches. The district organiser was responsible for building a local campaign, recruiting members, fundraising, holding meetings and co-ordinating sales of the WSPU's newspapers Votes for Women and The Suffragette.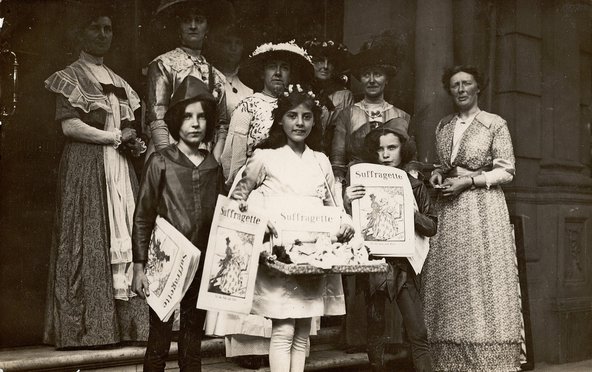 Group of children holding copies of 'The Suffragette'
She was responsible for finding suitable premises for the local Union. These might be a small office, or could include a shop with space for public display doubling as a site for fundraising. If a shop was rented, the organiser would ensure a regular flow of goods (usually made by members) to cover the rent. Each week she sent an activities diary down to the London headquarters giving leaders an overview of national work, and wrote a detailed 'local report' for the Union's paper. These columns are invaluable for recreating branch work and are often the only record of many women involved in the grass roots campaign.
Recruiting volunteers
District organisers underpinned large militant events in London by recruiting volunteers. They collected names of local women prepared for arrest and sent these to Headquarters in advance so leaders could anticipate the scale of any planned action. They supported militant activists in more practical ways raising money for London fares and liaising with anxious relatives of jailed suffragettes. Liverpool organiser Ada Flatman persuaded Mary Healis, mother of one local prisoner, to offer childcare to another woman who wanted to demonstrate in London.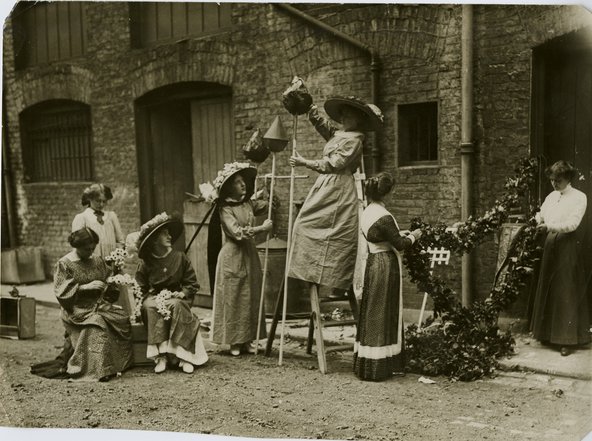 Making garlands for a Women's Social & Political Union (WSPU) rally, 1910.
The problem of militancy
Militancy posed problems for organisers. Many were recruited after coming to leaders' attention for daring acts of militancy. Once on the pay roll, they were paradoxically given the less glamorous parts of political activism, 'the unending donkey-work of gutter and pavement' as Southport organiser Dora Marsden put it. 
As suffragette militancy increased, women received longer prison sentences from magistrates frustrated by their continued civil disobedience. Organisers now had strict instructions to avoid arrest themselves. Their role was to recruit volunteers and maintain an effective publicity campaign around prisoners. Some found this too much; Dora Marsden chafed against life on the sidelines directing others' militancy and eventually resigned, unhappy with her lack of autonomy.
After the armistice
At the start of the First World War, militancy ended, making most organisers unemployed. Some joined other women's groups including the Women's Freedom League, the Independent Suffragettes and the Suffragettes of the WSPU, that 'kept the suffrage flag flying' through the war. After the armistice, organisers' skills led them to a variety of jobs. Several stayed in politics.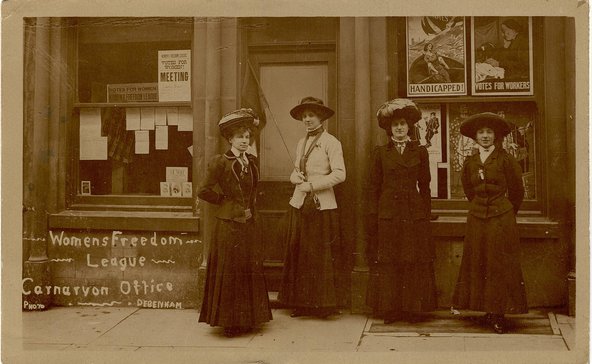 Women's Freedom League Carnarvon Office
Hannah Mitchell (Manchester) Dorothy Bowker (Hastings and St Leonards) and Isobel Seymour (Headquarters) became local councillors, and Barbara Ayrton Gould (Headquarters) was elected to Parliament in 1945. Dorothy Evans (Birmingham) Helen Archdale (Sheffield) and Mary Phillips (Liverpool, Yorkshire) worked with Margaret Haig (Newport) on her feminist journal Time and Tide.  Others found work abroad. 
Nellie Hall (Headquarters) worked for the Association of Women Electors in Toronto and Lucy Burns and Alice Paul returned to women's politics in America. Some entered social work. Charlotte Marsh (Yorkshire) worked for the Public Assistance department of the London County Council while Cicely Hale (Headquarters) became a health visitor and wrote the 'Baby Circle' column for Woman's Own.  
Earning a living through political work
Suffragette organisers were the first significant group of women to earn their living through political work. Their campaigns helped women get the vote, and opened doors to a number of political careers once it arrived.
---
Krista Cowman is the Director of Research, College of Arts and Professor of History at the University of Lincoln. Cowman published the findings of her British Academy small research grant in a book, 'Women of The Right Spirit! Paid Organisers in the Women's Social and Political Union, 1904 – 14'. The research has underpinned a number of wider projects, most notably her work as Historical Advisor to the 2014 feature film Suffragette (dir. Sarah Gavron) which focuses on the grass roots experience of suffragettes in a fictitious London branch. She also worked with Pilot Theatre on a large community suffrage play Everything is Possible (Bridget Foreman) shown at York Theatre Royal in August 2017.
This blog post is part of our Vote 100 series. Read our other posts marking 100 years since Parliament passed the law allowing the first women to vote.
Sign up to our email newsletters