Tackling the taboo around menstruation in Nepal
by Dr Kay Standing & Dr Sara Parker
8 Mar 2018
We have been working to promote gender-based equality in Nepal for the past 25 years. The 2015 earthquakes drew our attention to the difficulties faced by women in accessing products to manage their periods. We were approached by a number of small charities to evaluate the impact of the work they were doing to address this problem. Funded by the British Academy, over the past 18 months we have visited Nepal and interviewed a wide range of NGOs and activists who are working to promote menstrual health awareness. So, what are the key lessons that we've learnt?
Menstrual stigmas and taboos in Nepal
Whilst there is a lot of media attention on the now illegal practice of Chhaupadi (where menstruating women are confined to a cow shed) which can result in death, our research highlights that there are a wide range of menstrual stigmas and taboos in Nepal associated with periods being seen as 'dirty' and girls and women as impure. These customs range from not being able to cook, participate in religious ceremonies or even touch your husband during menstruation.
Chhaupadi exists in multiple forms.  Chhaupadi in the west is an extreme example and has media focus – but there is chhaupadi in many forms, for example in Kathmandu amongst the middle class, girls are secluded for 11 days when they first have [menarche], they cannot see men, they cannot shower, and they cannot see the sun
– Teacher
Women and girls lack knowledge about the reproductive cycle
Sex education in schools is limited and doesn't address the social stigmas around menstruation. There is a need for material in the curriculum to be developed to improve education in schools. This lack of awareness can perpetuate social customs which stigmatise women and lead to unhygienic practices.
Many women are unable to manage their periods with dignity
Especially in more remote areas, many women lack the means of managing their periods with dignity. The majority of women use old saris or cloth rags, or free bleed.  Repeated use of unclean cloth or improper washing, drying and storing of cloths can cause urinary tract infections.
In rural villages women use old bed clothes and rip and wrap them around, even my mother, when I started my period, she gave me the old bed sheet to wear
– NGO worker
On a more positive side we found that these menstruation issues are being tackled in Nepal in a range of ways.
A range of menstrual hygiene kits are being made and distributed by NGOs
These contain reusable pads made from waterproof, antibacterial and antifungal material that can be cleaned with soap. They are called a variety of names from 'dignity kits' to 'freedom kits' and are less expensive in the long-term and are more environmentally-friendly than disposable pads. We prefer not to use the terms 'sanitary' or 'hygiene' in order to break the link with periods being seen as impure and dirty.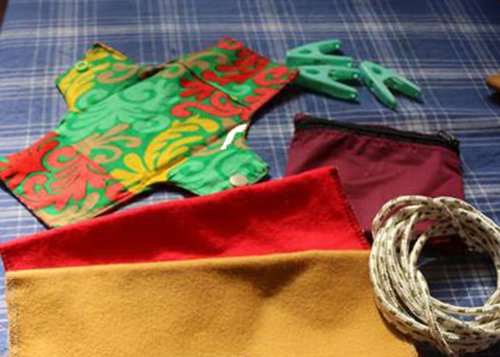 Our survey with 286 girls and women using the pads found that the pads were comfortable, didn't leak, and, when combined with adequate toilet and washing facilities had some impact on girls' school attendance.
Locally made kits can help to reduce the dependence on donated kits
Locally made kits can provide income opportunities for women producers in Nepal and also helps reduce the dependence on donated kits. However, the pads need to be good quality to be effective and not seen as a substandard alternative to commercial disposable pads.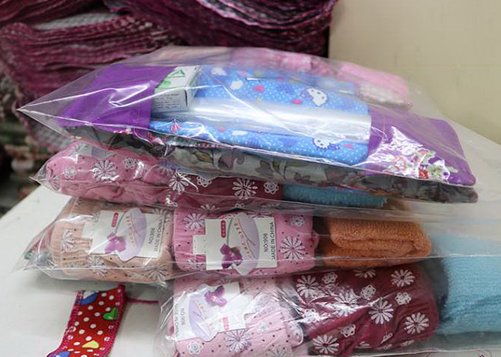 Sexual and reproductive health educational material is being developed
A variety of educational material is being developed to educate girls and boys and can start a discussion about sexual and reproductive health. More important than the kits are the education programmes supporting the distribution of re-usable pads. This not only provides knowledge on the menstrual cycle, but, by including members of the wider community, can start to raise awareness and challenge menstrual taboos.

Menstruation is a global issue and should be something to be celebrated – key is education and the work with local community to bring change and end the taboos
NGO worker
A strong network of NGOs and activists are working in Nepal on menstrual health and challenging taboos
They are working together to share good practice and successes, as well as to identify and overcome barriers. Kits alone will not challenge cultural practices; however, progress is being made and the work being done by menstrual activists in Nepal is beginning to impact on attitudes and knowledge.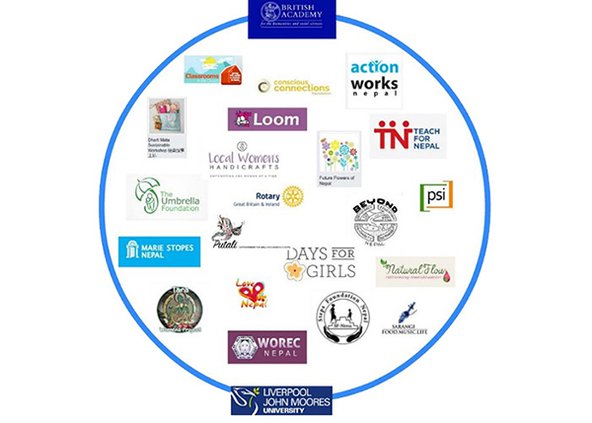 We have presented our initial findings at international conferences and will be feeding back in Nepal so good practice can be shared amongst stakeholders and findings used to influence policy. We suggest that material from local organisations can be used within the school curriculum and teacher training to ensure girls and boys have access to better sexual health education. We want to share our experiences to highlight the work being done by gender activists in Nepal to ensure no one is denied the right to a dignified period.
---
Dr Kay Standing is a Reader in Gender Studies and Dr Sara Parker is a Reader in Development Studies, Sociology at Liverpool John Moores University. Their research project, 'Re-usable sanitary towel projects: Assessing their wider impact on women's health and well-being in Nepal', is funded by a British Academy/Leverhulme Small Research Grant.
Image credits:
Images by Sara Parker
Sign up to our email newsletters