How King George III's kitchens gave Britain a taste for international cuisine
by Dr Adam Crymble, Dr Lisa Smith and Dr Rachel Rich
11 Jun 2020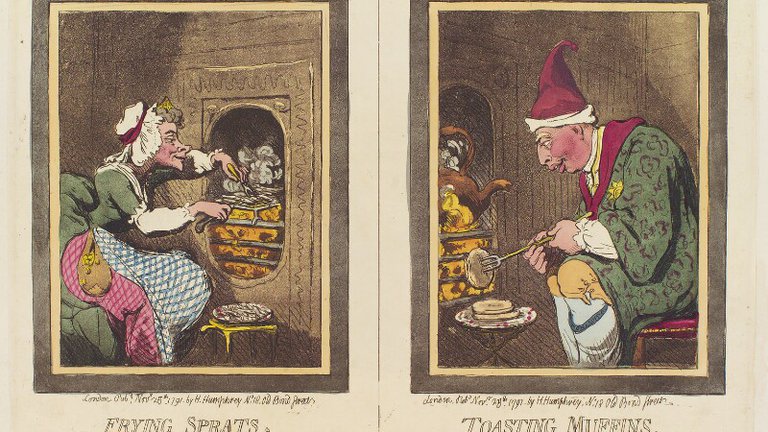 Mutton again? Must be a Wednesday. Every day from 1760-1820, King George III's cooks prepared food for more than a dozen tables, including their own. Eight of those tables were for servants, each receiving drink, probably bread and a few vegetables and a generous slab of roast meat to help them keep up with the physical demands of their work. The animal sacrificed for their bellies was pre-determined by a calendar on a weekly rotation, broken up only by the addition of plum pudding on Sundays.
| | | | | | | |
| --- | --- | --- | --- | --- | --- | --- |
| Monday | Tuesday | Wednesday | Thursday | Friday | Saturday | Sunday |
| Veal | Beef | Mutton | Beef | Veal | Pork | Beef and plum pudding |
What did the royal household staff eat?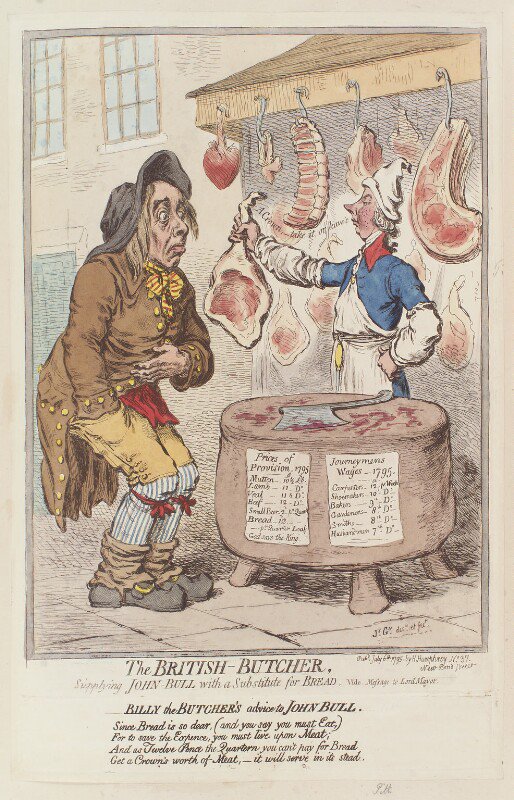 Though they were never served anything that flew in the air or swam in the sea, the staff were fed well, collectively consuming an average of 110 pounds of meat per day. Over the course of the week, they probably ate the better part of a cow, a couple of sheep, a pair of calves and a pig. Who received which cuts was likely determined by an internal hierarchy, with nothing going to waste.
Day in and day out, similar volumes of meat turned slowly on the large spits before the kitchen fires. The big slabs of beef in particular have become synonymous with 'British' cooking in the 18th century, with caricatures of 'John Bull' routinely playing upon the motif of roast beef as quintessential Englishness.
At the royal palaces, however, the roasts served a more practical purpose. The calendar system meant that no-one had to spend time thinking about what to feed the servants. Armed with a weighted pulley system that could rotate the spits of beef with minimal supervision, the kitchen staff were freed up for the more important business of the royal table.
Unlike the servants, the ancestrally German King George and German-born Queen Charlotte ate a distinctly European cuisine. Their meals included a much wider variety of dishes and were served in the French style – not entirely unlike a modern buffet, but with guests seated around the table, within arms-reach of the carefully arranged food. This style is perhaps normal on today's family tables – but was quite particularly European at the time.
An international menu for their majesties
In addition to those same meats, the King and Queen consumed even more of the animal kingdom: a number of species of fish (salmon, trout, John Dory, cod, haddock, skate, sturgeon), oysters, eels, lobsters, shrimp, crab, lamb, chicken, duck (the odd duckling), pigeons, guinea fowl, rabbit, venison and the occasional peacock or turkey (neither of which was native to Europe). A typical day would see about a dozen different animals served to their majesties.
Often those animals were prepared in a typical British fashion – roasted or stewed, sometimes boiled. However, the method of preparation for their majesties (unlike the servants) was frequently noticeably European. There might be a traditional Dutch 'metworst' (sausage not unlike salami), a Hanover ham consummé, or Italian macaroni and vermicelli. French desserts such as mille-feuilles cakes, beignets (donuts), or Dutch pancakes also regularly appeared, interspersed with the more English gooseberry fool and apple tart. The royals also ate flavours from further afield. Asian foods long-since introduced into Europe, such as endive, rice, or spices like pepper, mace, and cinnamon, were all available to the royal chefs whose mastery of both English and worldly flavours enriched the haute cuisine of the day.
The spread of foreign flavours
The Queen had a reputation for eating rather modestly and the royal household prided itself on economy. With an impossible volume of food put in front of the King and Queen, at least some of the servants must have tucked into the leftovers – a common event in elite households. Through a bite of metworst for a footman or a bit of mille-feuilles for a lady's maid, foreign flavours found their way into English mouths. For some of the servants, those flavours may have been entirely new, and their experiences with it helped to create aspirations amongst people further down the social scale for a wider range of foods.
Centuries later, those same mille-feuilles have become a welcome challenge for the bakers of the Great British Bakeoff and grace the shop windows of patisseries in our country. The Italian pastas, European cured meats and Asian spices have seamlessly been integrated into our grocery stores and our own cooking. While mutton may no longer be the meat of choice, many families continue to enjoy a Sunday roast beef, which maintains its connection to Britishness. What the royal household of the 18th century shows is that not only can diverse cultures sit alongside one another, but Englishness was and continues to be enriched by adopting the cultures and flavours of lands beyond our shores.
---
Dr Adam Crymble (@adam_crymble) is a historian of migration. Dr Lisa Smith (@historybeagle) is Lecturer in Digital History at the University of Essex. Dr Rachel Rich (@RachelSRich) is Course Director at Leeds Beckett University. She received research funding from the Humanities and Social Sciences Tackling the UK's International Challenges programme in 2019. Their research on European cuisine and British identity featured in the British Academy Virtual Summer Showcase.
Lead image: 'Frying sprats, toasting muffins' (Charlotte of Mecklenburg-Strelitz; King George III) by James Gillray, published by Hannah Humphrey hand-coloured etching and aquatint, published 28 November 1791 NPG D12433 © National Portrait Gallery, London
If you like discovering more about the humanities and social sciences, join us at our Summer Showcase 2022, a free festival of ideas #ForCuriousMinds, 17-18 June. Book now.
Sign up to our email newsletters