Sincerely L. Cohen
by David Boucher
11 Nov 2016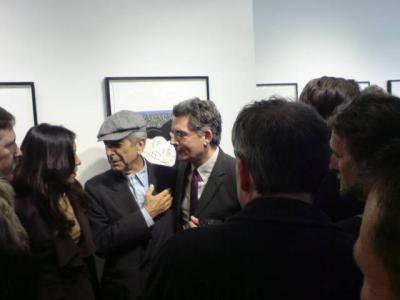 Leonard Cohen, poet, novelist, painter and singer has died at the age of 82 in his modest house which he shared with his daughter Lorca and granddaughter, in an unfashionable suburb of Los Angeles.
He was born in Montreal in 1934, or the year 5695 in the month of Tishri on the Hebrew calendar. Although he frequently outraged the Jewish community from which he hailed, by for example, naming a collection of Poems Flowers for Hitler, and placing a comic Hitler centre-stage in a scene from his novel Beautiful Losers.
He became a Buddhist monk in the 1990s, but it did not diminish his ambivalent, but profound antagonist relationship with the religion of his forefathers, which he never renounced. The hallmark of his writing is the entangling of the sacred and profane, worshipping the human form, and encapsulating the act of making love as a righteous religious experience. His most commercially successful song, covered over five hundred times, has a variety of alternative verses, with only the most sanitised making the final cut on most versions. He sings in his inimitable, chanson delivery, 'I remember when I moved in you, and the holy dove was moving too. And every breath we drew was Hallelujah'.
The album he released three weeks ago, rehearses his reconciliation: 'Hineni, hineni. I'm ready, my lord'. Hineni is the Hebrew word which Abraham used to answer God's call, 'I am here'
Cohen was the most self-deprecating of men. He often joked about his voice, most famously in 'Tower of Song', which sent his audience into spontaneous rapturous applause when he sang, 'I was born this way. I had no choice. I was born with the gift of a golden voice'. His modesty shines through in placing Hank Williams a hundred floors above him in the Tower of Song.
Cohen's career was punctuated by highs and lows, with his record company Columbia almost disdainful of him for his comparative lack of commercial success in the States. Ironically, the album on which Hallelujah first appeared, Various Positions, was dismissed by CBS president Walter Yentnif, exclaiming 'Leonard we know you're great, but we don't know if you're any good'.  Cohen had an uneasy relationship with the label, once sending it a ten dollar bill, with a note saying that he was touched by the indifference with which the company promoted his records. He hoped that the enclosed would help them out.
His manager Kelley Lynch, who was later convicted of defrauding him in a long and acrimonious series of court battles, had rescued his career in the 1970s, but it was Jennifer Warnes who catapulted him once again to international stardom. Her album Famous Blue Raincoat (1987) on which Cohen dueted on 'Joan of Arc', introduced the world to a deeper, darker and more menacing voice, which reaches its crescendo on 'First we Take Manhatten' (1988), 'The Future' (1993) and 'You want it Darker' (2016).
In conducting the research for my book Dylan and Cohen: Poets of Rock and Roll, which the British Academy graciously supported, Cohen was generous and considered with his time. His responses to my questions were as enduring as his poetry. I was interested in the character Breavman in The Favourite Game, who wanted to be the Canadian Dylan Thomas, and asked why Dylan Thomas. Cohen told me he had seen Dylan Thomas give a poetry reading at the University of Montreal. 'Dylan Thomas was the great voice of poetry when I was at college. We (all the young poets) were all intrigued with his fame, his genius, his drinking, his unconditional sense of social irresponsibility'.
He saw little prospect of touring after he reappeared from the Buddhist monastery in 1999. He was afraid that he would not be able to fill the halls. His financial predicament enforced a return to the stage, about which he was extremely nervous, first playing small venues in Canada, gradually building to festivals such as Glastonbury. He toured almost continuously from 2008 to 2013, delivering three hour shows night after night, with supreme professionalism and energy, endearing him to the faithful, the returning wayfarers, and a new generation of devotees. He was genuinely touched by the loyalty of his fans, and grateful to them for sticking with him all those years. It was fifteen years since he toured. He had last appeared at the age of sixty, when he was 'just a kid with a crazy dream'. The dream is over and no longer will he sign off 'sincerely L. Cohen'.
His last words to me were: 'I wish I were in Montreal. I really miss my hometown. Personal matters confine me to Los Angeles for the time being. Safe travels. Fraternally, Leonard.' 
David Boucher is Professor of Political Philosophy at Cardiff University and Distinguished visiting professor at the University of Johannesburg. He was the recipient of a British Academy grant to write the book Dylan and Cohen: Poets of Rock and Roll. He pictured above with Leonard Cohen.
Sign up to our email newsletters