Researching sexual violence at UK music festivals
by Dr Hannah Bows
19 Sep 2019
Festivals play a central role in the UK music industry and dominate the British summer calendar, with growing numbers of people attending one or more festivals each year. UK Music (2017) estimates that there were around 230 festivals in 2016 which were attended by more than 4 million people and CGA (2019) estimates that there were 700 UK music festivals attended by 7.1 million customers in 2018.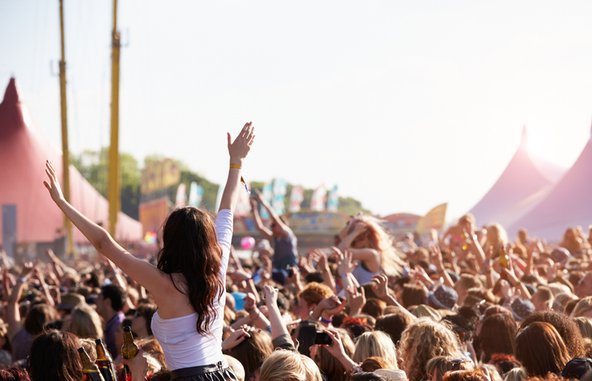 Reports of sexual harassment and violence at festivals
Every year the festival season creates a buzz across media and social media platforms. Whether you visited a festival this year or not, it's unlikely that you avoided the TV coverage and newspaper stories discussing the major festivals held this summer. Although many of these stories are positive, there have been several media reports over recent few years exposing incidents of sexual harassment or violence, both in the UK and beyond. Incidents have been reported at many of the major UK festivals, including Latitude, Reading, RiZE and Glastonbury.
Outside the UK, a number of rapes and sexual assaults were reported at Bravalla, Sweden's biggest music festival, which led to its cancellation in 2016 and 2017 until men could learn to "behave". At Coachella in California, reports of widespread sexual harassment and assaults in 2018 drew further attention to the issue. Surprisingly, while these headlines have drawn attention to the incidence of sexual harassment and violence at festivals, there has been little research into the scale of the problem. To address this gap in evidence and understand more about the extent, nature and responses to sexual harassment and violence at UK music festivals, we are conducting a mixed-method study funded by the British Academy.
Understanding the scale of the problem
While data on sexual offences reported to the police is published annually, this data does not provide detailed information about the location of incidents, which means that data on sexual offences specifically reported at music festivals is not available. Similarly, although there have been many academic and industry studies on sexual violence within the night-time economy, these studies have not extended to examine music festivals.
To address this, last summer we visited three music festivals in England to ask participants about how safe they felt at festivals they had attended in the previous 12 months, and whether they had experienced various behaviours which would be captured by criminal offences (e.g. theft, physical violence and sexual harassment and assault). We also conducted an online survey, where 445 recent festival-goers reported about their experiences. We found that festival goers generally feel safe at festivals but report high levels of concern about various crimes. In particular, festival attendees are concerned about sexual harassment and assault. This was more common among women than men. Furthermore, about a third of women told us that they had experienced sexual harassment and 8% had been sexually assaulted at a festival within the previous 12 months, compared to 1% of men. This mirrors a YouGov poll also conducted in 2018 which found that 22% of 1,188 festival attendees reported some form of unwanted sexual behaviour. This rose to 30% for women within the sample, who in 2016 made up an estimated 60% of festival-goers. Although these figures would equate to a significant number of victims, they are lower than those reported in some other licensed spaces such as nightclubs and bars. For example, a 2015 Drinkaware study reported 54% of women and 15% of men aged 18-24 encountered sexual harassment on a night out. Similarly, a recent study of 5,649 students found that 56% had experienced harassment and unwanted sexual behaviour at UK universities. This confirmed to us that sexual violence at festivals required further examination through a larger study to build on our pilot study findings.
Investigating safety and support
As well as examining the extent, nature of and responses to sexual harassment and sexual violence at UK festivals, we also want to learn about the socio-cultural features of festivals, and how these may contribute to, or mitigate, sexual harassment and violence. In doing so, we hope to develop a foundational understanding of the structural characteristics of festivals, contributing to a better understanding of festivals as contemporary leisure spaces.
To achieve this, we are conducting a mixed-method study involving surveys of festival goers, festival workers and volunteers, examining the extent and nature of sexual harassment and violence. We have also visited three festivals, ranging in size and demographics, to conduct observations on-site and speak to professionals working across health, security, welfare and festival management to ask how they are working to identify and respond to sexual harassment and violence. Finally, to get a fuller understanding of responses to sexual violence, we are also speaking to witnesses or 'bystanders' about incidents they have seen at festivals and how they reacted.
We think that the nature of festivals could create extra challenges. Festivals usually take place in temporary venues, where the location and layout can change from year to year, meaning victims and witnesses may not know where to report or access help. Many have a low police presence, often hiring private security companies to manage safety on site. Some security companies include training on sexual harassment and assault, but some do not. Furthermore, many festivals are 'hypersexualised' spaces, which may mean harassment and assault are normalised, making them harder to recognise and report. It is important that we look at the challenges of, and opportunities for, responding to sexual violence for everyone – from victim-survivors to 'bystanders', staff and volunteers. Research has consistently shown that community responses involving all 'actors' are key to reducing sexual violence and ensuring victims are properly supported.
---
Dr Hannah Bows is Assistant Professor in Criminal Law at Durham University. Her research project Sexual Violence at UK Music Festivals was funded by a British Academy / Leverhulme Small Research Grant in 2018.
Sign up to our email newsletters