Joan Littlewood's vision for making London life more fun
by Luke Dickens
7 Jun 2019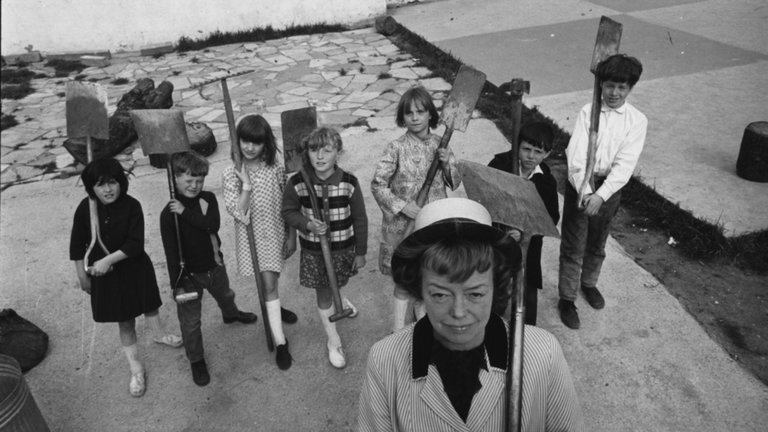 This blog post is part of our Summer Showcase series, celebrating our free festival of ideas for curious minds.
---
Joan Littlewood (1914-2002) is widely considered to be among Britain's most important and ground-breaking theatremakers. By 1961, she had co-founded the revolutionary group Theatre Workshop, staged plays by exciting new writers like Shelagh Delaney and Brendan Behan and received international acclaim for her touring productions. Yet at the same time, she had become so disenchanted with the elitism of the high arts that she made the unusual decision to take a break from theatre and apply her talents in a surprising new direction.
Littlewood was vexed that the British establishment had dictated cultural experience for so long. She saw this as profoundly connected with a deep-seated malaise afflicting everyday London life for many of its inhabitants. Declaring to her friend Clive Barker, "we're not in theatre anymore, we're in the sociological business!", she began conceiving a distinctly theatrical vision for what she described as a more "delightful" urban future, where radical new possibilities for play, pleasure and participation would be available to all.
In collaboration with the pioneering architect Cedric Price, Littlewood developed a utopian project called the 'Fun Palace'. Inspired by the lost Thameside pleasure gardens of centuries past, their idea was to create a temporary, flexible space that could be erected onto derelict sites, where everyone could freely participate in the delights of the new age: making things and sharing ideas together, honing new skills, experimenting with technological gadgets and creating art for their own ends. While the Fun Palace was designed as a provisional structure, their radical aim was to use it to stimulate more widespread social change.
A future of fun
Pleasure might be something we consider an indulgence, unimportant or frivolous given the many problems going on in the world around us and easily overlooked in the daily grind of our lives. Yet for Littlewood, this was the point: pleasure is a driving force of life, and a fundamental right that all human beings must have fulfilled.
For Littlewood, the Fun Palace was always much more than a built structure, limited to the brilliant designs by Cedric Price or to be constructed in a single location on the banks of the Thames. It was a nascent dream that became a lifelong preoccupation. It was also a deliberately ambivalent and provocative concept that she used to engage people in its interpretation.
Throughout the 1960s and 1970s, Littlewood reworked versions of her Fun Place ideas across different mediums, including rabble-rousing speeches, theatre workshops, film making, creative writing and youth work. Her collaborative approach drew together an eclectic range of talents, including innovative cultural and political figures along with all manner of people that she encountered as she travelled around the world at the height of her fame. Versions of the Fun Palace were planned or tested from Glasgow to New York City, Tunisia to India. In a telling letter to a local planner in Manchester, Littlewood signed off with the salutation "Fun Palaces everywhere!".
Littlewood approached the city as both laboratory and playground, finding sites and spaces where she could test her ideas for transforming urban life. Her experiments were remarkably prescient, anticipating both the emergence and limitations of the kinds of 'smart', 'sustainable', 'playful' and 'participatory' cities that now appear at the cutting-edge of 21st century urban planning.
By examining this incredible stage in her career, my research aims to consider Littlewood not only as a preeminent theatre-maker, but also as an important if overlooked urban visionary who saw the city itself as a form of theatre.
Clowning around in the city
Littlewood carried her approach to theatre into the Fun Palace experiments, focusing on how everyday life in the future city would be performed, enacted and animated. She drew inspiration from the pioneering theatrical techniques of the choreographer Rudolph Laban and Russian director Konstantin Stanislavski to put her utopian ideas into practice: through the body, through role play, and by radically re-scripting and re-staging forms of urban life. This was a very different way of bringing alternative urban futures into being, and a potent challenge to the dominant high modernist dreams of elite male planners and architects, with their masterplans and models often devoid of real people.
A key aim of the Fun Palace was to stimulate the latent creative potential of communities by providing grassroots opportunities for improvisation, pleasure and play. My research follows two recurring and related 'actors' that Littlewood used to demonstrate this potential: the clown and the child. Drawing inspiration from performers such as Charlie Chaplin, pop-up seaside Pierrot shows and Italian commedia dell'arte, Littlewood deployed clowns and clownery to encourage people to inhabit and interact with their everyday worlds differently. Children were also major figures in her work at this time: they were often invited to lead her experiments, and she regularly evoked childhood as a vital counterpoint to the adult-centric modes of urban planning, education, politics and cultural activity that defined the era.
Though it was never built, the Fun Palace remained an idea that Littlewood continued to develop for much of her working life. Even when she eventually returned to theatre – directing some of her most critically acclaimed productions – echoes of the Fun Palace were clearly apparent. As such, the Fun Palace provides important new understandings of utopian urban futures, both as they were envisaged in the 1960s and in our contemporary imaginations.
---
Dr Luke Dickens is a Lecturer in Urban Futures at King's College London. His research project, 'The Fun Palace and the Future City: Youth Work, Utopia and the Re-imagining of London's East End', was funded by a British Academy/Leverhulme Small Research Grant.
Sign up to our email newsletters