The peace agreements that could help conflicts today
by Professor Christine Bell FBA
20 Feb 2018
Peace talks in Syria, Yemen and South Sudan – three of the world's most difficult and costly conflicts – have had many failed attempts to reach a ceasefire and peace agreement. Are we right to be sceptical about what peace agreements can achieve?
A database for documenting global peace processes
The DFID-funded Political Settlements Research Programme launched a large database of peace agreements from 1990 to date, which shows the complexity of reaching peace. The PA-X Peace Agreement Database contains over 1500 documents, in over 140 peace processes globally, reaching to every corner of the world. 
These documents bear witness to the difficulty of reaching peace and the role that the public formal commitments to peace by the parties play. The PA-X collection forces us to reconsider official 'handshake moments' and signing ceremonies of the big 'final' peace agreement in a new light. 
For those of us involved in creating the database the journey into peace processes through their formal commitments has been a fascinating one. These processes have been ever more complicated and ingenious than we could have realised. Their documentary trails reveal 28 years of human ingenuity with regard to peace-making. 
Phrases migrate from one peace agreement to another
We have been fascinated to see how language migrates from one peace agreement to another. Did you know that the phrase 'parity of esteem' included in the Belfast/Good Friday Agreement 1998, found its way into peace agreements in Mindanao in the Philippines a decade later?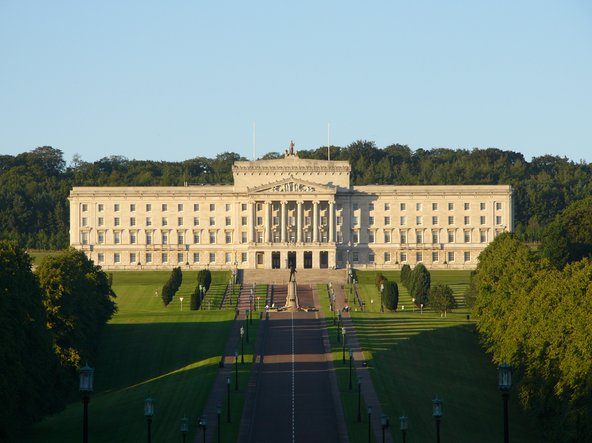 "Parliament Buildings in Belfast, seat of the Northern Ireland Assembly" by robertpaulyoung is licensed under CC BY-NC-SA 2.0
Or that the Brexit formula 'nothing is agreed until everything is agreed' was last used in the peace process between the Colombian Government and the FARC, which reached a peace agreement in 2016, later rejected in the other big referendum shock of that year? In fact, this phrase is commonly used in peace processes, as it enables the parties to inch towards agreement on particular issues without being accused of selling out their base. Compromises often have to be agreed in stages, but can usually only be 'sold' as a whole. 
Local peace-making processes missing from literature
We have also been shocked to delve into archives and unearth 39 different ceasefires in Bosnia. While we have all heard of the Dayton Peace Agreement which ended the conflict, these more local peace-making processes are almost completely missing from academic and practitioner literature. 
The Dayton Accords paved the way for the signing of the final "General Framework Agreement for Peace in Bosnia and Herzegovina" on Dec. 14 at the Elysee Palace in Paris.
We have had dilemmas as to whether to include in our collection 'unilateral peace agreements' – an apparent oxymoron – but often useful to breaking peace process logjams, for example, where two parties agree to sign two identical agreements at the same time and date, agreeing to unilateral ceasefires, rather than be seen to sign one together. 
PA-X Peace Agreement Database as a public resource
Personally, the most startling aspect of PA-X, is how long this journey into peace processes has taken – not usually a researcher's boast. I started collecting peace agreements in 1994, as a resource for the peace talks in Northern Ireland. As the collection grew I realised how narrow people's comparative field of vision was in comparison to the wealth of rich comparative material available. It seemed important to make what had begun as a personal collection, into a public repository with a quantitative and qualitative research capacity – both to ground the search for good comparisons, and to enable others to contribute analysis. A simple idea; but a long journey into technology, methodology, funding and capacity ensued. 



"As the collection grew I realised how narrow people's comparative field of vision was in comparison to the wealth of rich comparative material available."



The development of the practice of peace negotiations
The practice of peace negotiations grew and mutated – Northern Ireland alone saw 33 agreements in total, 11 before the Belfast/Good Friday Agreement, and 21 after; and of course life happened too. The journey involved several small grants along the way, including one from the British Academy in 2007, to get to the starting line of whether a viable research project could be crafted. In 2014, the full project was made possible by funding from DFID, and in 2018 we have now delivered our amazing database. 
It is appropriate perhaps that the database's delivery coincides with Northern Ireland reaching the 20th birthday of the peace agreement reached in 1998. It is sad to see Northern Ireland still mired in negotiations to save the agreement's centre-piece of shared government. But we must also acknowledge its success in ending violence, when that remains so elusive elsewhere. In that same time, I have moved from junior researcher to a Fellow of the British Academy. I use the moment and the position to encourage young researchers and funders to hold faith with ambitious long-term projects focused on transformation. 
More than just a research tool
PA-X has taught us that peace takes time, happens by degrees, and requires hope, persistence, and ongoing ingenuity and invention. We hope that PA-X is more than a research tool: we hope it is a resource for political imagination in seemingly intractable conflicts. 
---
 Professor Christine Bell is Professor of Constitutional Law and Assistant Principal (Global Justice) at the University of Edinburgh. She was elected as a Fellow of the British Academy in 2015.
Sign up to our email newsletters