To mark its 120th anniversary this year, each month the British Academy looks back on a different decade in its history by delving into its extensive archive of historical sources. This retrospective will lead up to the publication of a booklet on the first 120 years of the Academy.
In 1961, the Rockefeller Report on how to improve the provision for Research in the Humanities and the Social Sciences was published. This survey commissioned by the British Academy had included visits to the United States, Canada, France, Germany and Holland to gather comparative information from foreign grant-giving bodies. The report concluded: 'We should therefore like to see established a Council for Research in the Humanities and the Social Sciences.' The Academy's Secretary, Mortimer Wheeler, presented this case to the Treasury. He was told that government already had long-term plans in respect of the social sciences – a Social Science Research Council would finally be established in 1965. But, for the funding of research in the humanities, the Treasury argued that a new body would not be necessary 'since the work could be done equally well by the British Academy itself with considerably less expense in overheads'.
At the 1962 Annual General Meeting, the President was able to report that the British Academy had been given £25,000 of public money a year to disburse as research grants in the humanities, with a promise that this sum would soon increase (by 1969 the figure had risen to £65,000). The first grants were awarded in May 1963, for 44 projects, totalling £20,735. The bald project titles – all that now survives from once detailed project proposals – are both tantalisingly vague and intriguingly exotic (e.g. Ethnography in New Guinea £300; Kurdish-English Dictionary £750; British Bronze Age £325; Ethical concept of sin £350; Computer tests in Greek textual criticism £365). These grants of smaller amounts of money have remained the British Academy's most popular research funding scheme: a review in 2000 concluded that 'small grants are important out of all proportion to their size in fostering original research'.
Although public funding for research was now on a much firmer footing, private funding remained important too. In 1965 the British Academy received the generous proceeds, amounting to over £90,000, of a 'Thank-You Britain' Fund raised by Jewish refugees who had sought shelter in this country from the Nazis: this fund continues to support senior research fellowships. And in 1968 Gertrude Caton-Thompson (who had been the second woman to be elected a Fellow of the British Academy) gave the Academy an endowment of £21,000 to support archaeological research.
More long-term research endeavours aimed at publishing historical and cultural source material were initiated, including one that would promote the great musical heritage of Thomas Tallis and his contemporaries by producing editions of Early English Church Music. But, although much of the focus of this decade was on the humanities, the British Academy recognised the increasing importance of the social science disciplines by creating a new 'Section' of its Fellowship to cover Social and Political Studies in 1965.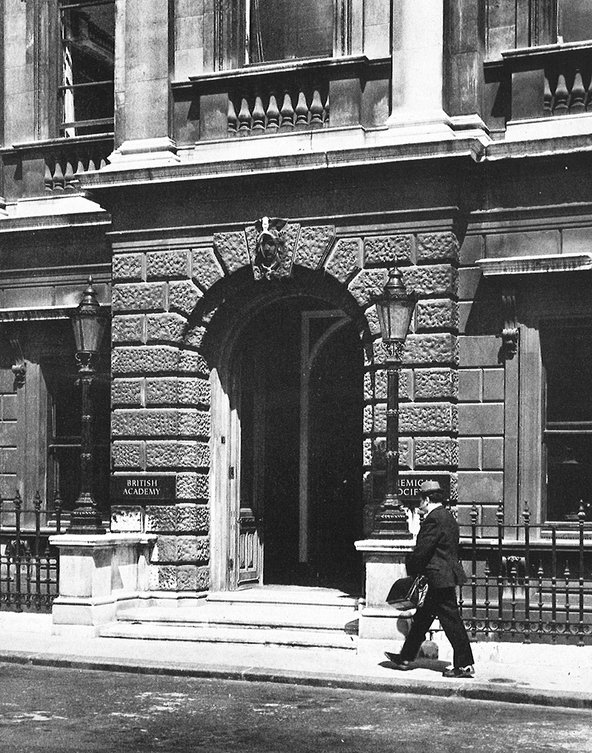 At the end of 1968, the British Academy moved from its rooms in 6 Burlington Gardens to a new, more dignified, home in Burlington House, where it shared the courtyard with a number of other distinguished learned societies. At the same time, Wheeler retired as Secretary, having achieved much of the transformation of the British Academy's fortunes that he had aimed for when he took on the role in 1949.
British Academy Small Research Grants
Professor Anne Haour FBA, Professor in the Arts and Archaeology of Africa at the University of East Anglia, who was elected to be a Fellow of the British Academy in 2021, discusses the significance of receiving Small Research Grant funding from the British Academy.
I received two British Academy Small Research Grants for archaeological fieldwork carried out in 2003 and 2004 in two study areas, 800 km apart, in Niger, in collaboration with colleagues from that country's Institut de Recherches en Sciences Humaines. The awards came just after I had received my doctorate, and helped prepare me for a career that has much depended on field research: I have carried out larger projects since then, but in many ways these grants helped shape what came next.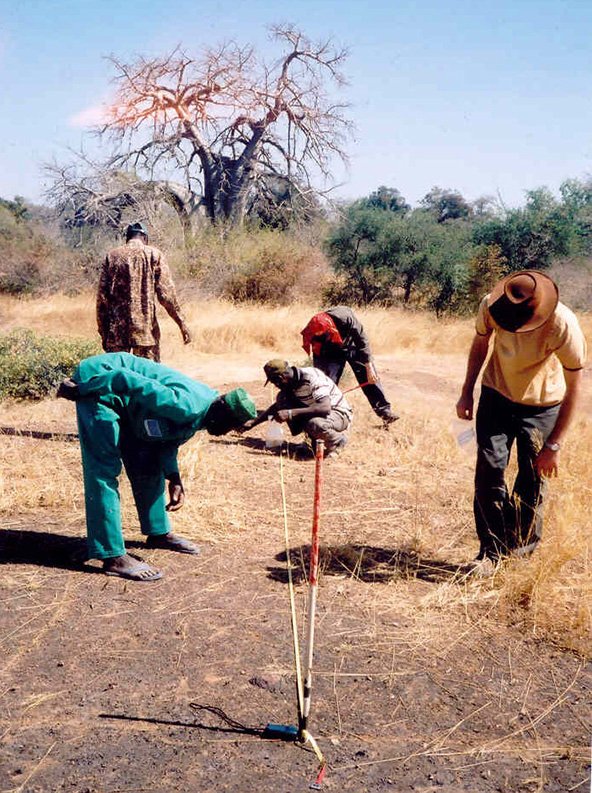 My study on the archaeological landscape of the Makarauci Valley involved one of the historical heartlands of the medieval Hausa polities. I was returning to the area where I'd undertaken my doctoral research, but this time with a bigger team and budget, and I was now the project leader of a team in which I was the sole female. In a small village, without electricity at the time, we had to learn patience and endurance. In a promising site we expected to find artefacts and features indicative of past human activity, but at first many of our trenches revealed nothing. We all were tetchy at times, with some team members asking why we were wasting our time digging latrines! It was fine in the end, with some good results from the project – an indication of local pottery sequences, stone-by-stone recording of a large enclosure, and some fascinating oral traditions.
My project in the Mékrou Valley documented the archaeology of an area of southwestern Niger where there had been evidence spanning Palaeolithic to submodern times, and was run in collaboration with a colleague expert in Palaeolithic. The area is in a nature reserve, so we weren't allowed to excavate; we could only conduct a surface survey and clean the features and artefacts that had been exposed by natural processes. The landscape is much eroded by seasonal rainfall, which releases huge amounts of buried archaeological material – making the survey challenging. But we learned a huge amount about the long-term settlement of the area. And the field skills and strategy that I developed served me extremely well a few years later when I worked in similar circumstances just across the border, in Benin, with a large European Research Council award.
The links I forged with colleagues in Niger endure to this day; we are all pretty senior folk now, but one never forgets the experience of sharing manioc and sardines under a tree.
Though they were only for small amounts (a fact that one US-based referee commented on with bemusement!), for me these two Small Research Grants punched well above their weight, playing a fundamental role in my career.
This page was created to mark 12 Decades of the British Academy.
Sign up to our email newsletters