The Turing Scheme: understanding impacts and implications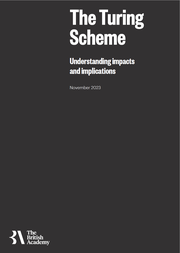 Year

2023

Publisher

The British Academy

Number of pages

13
Summary
The British Academy was asked to produce a briefing on the Turing Scheme - the UK government's programme for global mobility which launched in 2021 - for the All-Party Parliamentary Group for Modern Languages, ahead of a House of Lords debate on financial pressures in the higher education system. (1)
This briefing has been updated to inform a wider audience and aid understanding on the known impacts and implications of the Turing Scheme for international mobility in the higher education sector. The paper explores the current trends in outward mobility, support packages and funding under Turing in comparison with its predecessor programme, Erasmus+. It considers the implications for reciprocal mobility arrangements for higher education placements in the UK, and how this compares with the additional opportunities available in the devolved nations.
The briefing sits within the Academy's wider suite of policy briefings and analysis which raises awareness of international higher education mobility and its value for the sector, society, and the economy. This work is further supplemented by insights from a programme of work led by the Academy, dedicated to monitoring trends in language education provision and mobilising this expertise to inform debate on the importance and value of language uptake in the UK.
---
For a record of the House of Lords debate that took place on the 30th of March 2023, please see Hansard (2023), 'Higher Education: Financial Pressures', [accessed 31 July 2023].
Sign up to our email newsletters