Reforming business for the 21st century: a framework for the future of the corporation
by The British Academy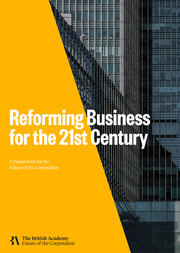 Year

2018

ISBN

978-0-85672-627-9
Summary
Corporations were originally established with clear public purposes. It is only over the last half century that corporate purpose has come to be equated solely with profit. This has been damaging for corporations' role in society, trust in business and the impact that business has had on the environment, inequality and social cohesion. In addition, globalisation and technological advances are exacerbating problems of regulatory lag.
Together, these issues are intensifying the need for a reconceptualisation of the corporation around purpose. The Future of the Corporation programme represents the most comprehensive attempt to date to provide this reconceptualisation. Our research suggests a need to develop a new framework for the corporation around three interconnected principles.
The Future of the Corporation is one of the most ambitious programmes of research to have been undertaken to date on the current state and future prospects of business. Its remit is to consider the implications of economic, environmental, political and social challenges, and scientifc and technological opportunities for the future development of business. It is organised by the British Academy, the UK's national body for the humanities and the social sciences.
31 academics from the humanities and social sciences have been participating in the first stage of the programme. Guidance from 25 business leaders has grounded this research in practice. What emerges is a profoundly novel and insightful perspective on business that lays the foundation for a radical reformulation of the concept of the frm. While the 13 projects were undertaken independently by people from a diverse range of academic
disciplines from institutions in different parts of the world, the conclusions of their papers demonstrate a consistency of thought and a coherent view of how business should adapt and respond to the challenges and opportunities it faces.
What this report seeks to do is draw together the substantial body of knowledge and insights that the thirteen research projects provide on the current challenges that confront businesses, governments and societies around the world. While setting out key principles for the future of the corporation, the report is primarily diagnostic in identifying the nature and source of the problems rather than prescriptive in proposing detailed policy recommendations. These will be the focus of phase two of the research programme, which will start in 2019.
Interactive versions of the report are posted below:
A framework for business in the 21st century
Why we need to re-shape business for the 21st century
The case for reconsidering the nature of the corporation
Five levers of change to reform business for the 21st century
Sign up to our email newsletters