For-Benefit Business and the Future of the Corporation
by The British Academy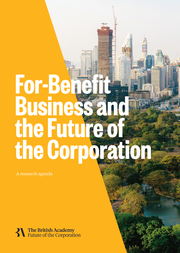 Year

2020

ISBN

978-0-85672-651-4

Number of pages

40
Summary
The British Academy's Future of the Corporation programme is the most extensive analysis performed to date on how business should be reconceptualised around corporate purpose to address the environmental, social and political challenges it faces and to take advantage of scientific and technological advances that are in progress.
The programme has an academic foundation in the form of a series of research projects which considered the nature of corporate purpose, culture and trustworthiness, along with the factors driving change in the way business operates and the main levers of business policy. It is unique in considering the whole breadth of issues and in drawing on a wide range of academic disciplines. Alongside this academic foundation, the programme also has extensive links into business itself, which has enabled the academic findings to be informed by real business insight and experience. The programme has proposed a new understanding of the purpose of business:
to produce profitable solutions to the problems of people and planet and not to profit from producing problems for people or planet.
This report explores the application of the principles to for-benefit business as an illustration of how the Future of the Corporation framework can assist business with delivering benefit for people and planet. Through this process, a research agenda has emerged which is highlighted throughout. The report contains the following sections:
Introduction (including definitions of for-benefit business and the fourth sector)
Part 1: Evidence from the Future of the Corporation landscape review
Part 2: Principles for Purposeful Business and pathways for reform
Part 3: Considerations arising from the Future of the Corporation programme for for-benefit business
Part 4: Conclusions on the future research agenda ahead for purposeful business and the fourth sector
Sign up to our email newsletters