Enlightening the constitutional debate: tax and spending after the Scottish referendum
by The British Academy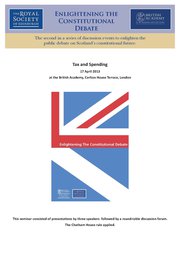 Year

2013

Number of pages

12
Summary
On 17 April 2013 the British Academy held a policy forum to discuss the taxation, public spending and block grant scenarios that could unfold after the referendum on Scottish independence. The intention of this forum was to discuss what future lies ahead for the Barnett Formula (allocating block grant to Wales and Northern Ireland) if Scotland were to leave the United Kingdom altogether, or in the event that the Calman report is acted upon, bringing the Scotland Act into force. Other key issues which were discussed include the future of formula funding for services relating to health, education and local government in England. 
This forum, the first of three British Academy forums on the issues surrounding Scottish independence, forms part of a series of events held in conjunction with the Royal Society of Edinburgh.
The forum was hosted by Professor Iain McLean FBA and chaired by Professor Lord Paul Bew. There were presentations from a panel of speakers:
Gerald Holtham, former Chair of the Independent Commission on Funding and Finance for Wales, Principles for distributing block grant around the UK (Mr Holtham's remarks were summarised by Professor McLean)
Paul Doyle, HM Treasury, The cross-HMG programme of analysis to date
Paul Johnson, Institute for Fiscal Studies, 'The future of the UK and Scotland' 
This report summarises the presentations and debates that took place at this forum.
Sign up to our email newsletters