Cohesive Societies Literature Review
by Imogen Baylis, Harris Beider and Mike Hardy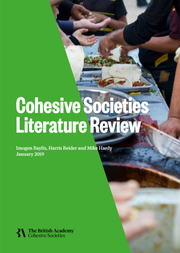 Year

2019

ISBN

978-0-85672-632-1

Number of pages

70
Summary
The first phase of the British Academy's programme of work on Cohesive Societies aims to capture existing work related to social cohesion and five key themes, with a view to undertaking further analysis and developing a programme of events, workshops, briefings and research in phase two.
The five themes of the programme are:
1. Cultural memory and tradition
2. Social economy
3. Meaning and mechanisms of social responsibility
4. Identity and belonging
5. Care for the future
This Literature Review, by Imogen Baylis, Harris Beider and Mike Hardy at Coventry University's Centre for Trust, Peace and Social Relations, surveys a wide range of literature across humanities and social science disciplines to build an up-to-date picture of academic writing relevant to social cohesion and the five themes.
Sign up to our email newsletters