Kenyon Medal
The Kenyon Medal is awarded annually in recognition of work in the fields of classical studies and archaeology.
History of the prize
The award was endowed by Sir Frederic Kenyon (1863–1952), elected a Fellow in 1903 and serving in turn as the Academy's sixth president and second secretary. The medal was awarded for the first time in 1957.
Eligibility
Eligible nominations can be for any scholar whose work relates to classical studies and archaeology.
How to nominate
Nominations for this award are open from 1 December to 31 January and may only be made by Fellows of the British Academy. Entries should be submitted electronically to [email protected].
In the body of the email, clearly state:
Name of the prize or medal
Name of nominee
Nominee's position/institution and email address
Nominee's principal area of academic distinction
Supporting statement (250 words)
Nominator's name and your British Academy section
Declaration of any institutional or personal interest
The deadline for submissions is 31 January each year. Nominations will be reviewed, and the winner selected, by the relevant panel.
If you have any queries submitting a nomination, please email [email protected].
---
2023 winner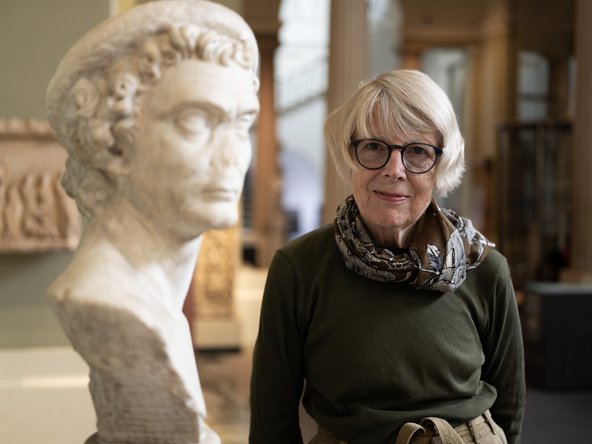 Dr Susan Walker FSA has been awarded the 2023 Kenyon Medal for her enormous contributions to the fields of Roman history and literature.
Educated at Colston's Girls' School, recently renamed Montpellier High School, Bristol, and the Institute of Archaeology, now part of University College London, Susan Walker was an Assistant, later Deputy Keeper in the Department of Greek and Roman Antiquities, British Museum from 1977 – 2004. She was then appointed Keeper of Antiquities at the Ashmolean Museum, and a Governing Body Fellow of Wolfson College, University of Oxford. She retired in December 2014 and now holds the titles of Honorary Curator and Emeritus Fellow of Wolfson College. She is a Corresponding Member of the Deutsches Archäologisches Institut and the Österreichisches Archäologisches Institut and a Fellow of the Society of Antiquaries. She has held a studentship at the British School at Athens, and fellowships at the Deutsches Archäologisches Institut, Berlin, the British School at Rome and the J. Paul Getty Foundation. She was awarded a Leverhulme Emeritus Fellowship in 2020-2021. She has been Honorary Secretary, Chair and President of the Society for Libyan Studies, recently renamed the British Institute for Libyan and Northern African Studies, and Chair of Publications at the British School at Rome. Her publications include: (ed. with Averil Cameron), The Greek Renaissance in the Roman Empire (London 1989); Ancient Faces. Mummy Portraits from Roman Egypt (with M. L. Bierbrier, London 1997; sole editor, American edition, New York and London 2000); Cleopatra: from History to Myth (with Peter Higgs, London 2001); (ed.) Saints and Salvation: the Wilshere collection of late Roman gold-glass, sarcophagi and inscriptions (Oxford 2017).
"I am very honoured and surprised by the unexpected but most welcome award of the Kenyon Medal of the British Academy. Contrary to the expectations of my parents' very elderly neighbours, I didn't meet Sir Frederic Kenyon when I first went to work at the British Museum, but I did meet his formidable daughter Kathleen, in my early years a Trustee. All of them would have been delighted by this news.
Any permanent gallery, special exhibition or research project undertaken in a museum is the work of a large team of people. I owe much not only to my teachers at school and university but also to my fellow-curators, designers, conservators, architects, artists, technical assistants and administrators, and not least to supportive and innovative museum directors. Much of my research on the archaeology of objects, principally Roman marble architectural elements and sarcophagi, gold-glass and painted mummy portraits, has involved collaboration with scientists. My interest began from an advantageous starting point: the presence of the British Museum's in-house Department of Scientific Research. The Ashmolean's Department of Conservation has also been a generous collaborator. I have found great inspiration and massive expertise on all aspects of archaeology amongst students, friends and colleagues in the Faculty of Classics, the School of Archaeology and Wolfson College, University of Oxford.
Classical archaeology observes no modern national boundaries, and I have gained much knowledge and insight from colleagues in many countries of Europe and northern Africa, and much support in the United States of America and Canada. I greatly value the time I spent on doctoral research at the British School at Athens, where I was able to build knowledge not only of archaeological sites and museums but also meet the people charged with their care. More recently I have been much engaged with the British School at Rome, an institution remarkable for its support of visiting scholars within a unique community of academics and artists. The Society for Libyan Studies and an earlier winner of the Kenyon medal, the late Joyce Reynolds, took me into Libya, a rewarding and unforgettable experience. All these institutions are supported by the British Academy, and they are of inestimable value, not only as research centres, but also for the enduring links built with friends and colleagues in the host countries.
My greatest debt, however, is at home in Oxford: to my husband John Wilkes FBA, who has supported me and many unlikely enthusiasms for over four decades."
- Dr Susan Walker FSA, August 2023
Sign up to our email newsletters