Edward Ullendorff Medal
The Edward Ullendorff Medal is awarded annually for scholarly distinction and achievements in the field of Semitic languages and Ethiopian studies.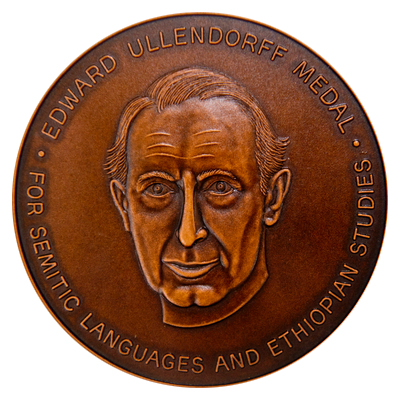 History of the prize
This award commemorates Professor Edward Ullendorff (1920-2011) who was elected a Fellow of the British Academy in 1965. His widow has generously supported the establishment of a medal in memory of her husband in view of his long association with the Academy, which he valued greatly. The medal was first awarded in 2012.
Eligibility
Eligible nominations can be for any scholarly distinction and achievements in the field of Semitic languages and Ethiopian studies.
How to nominate
Nominations for this award are open from 1 December to 31 January and may only be made by Fellows of the British Academy. Entries should be submitted electronically to [email protected].
In the body of the email, clearly state:
Name of the prize or medal
Name of nominee
Nominee's position/institution and email address
Nominee's principal area of academic distinction
Supporting statement (250 words)
Nominator's name and your British Academy section
Declaration of any institutional or personal interest
The deadline for submissions is 31 January each year. Nominations will be reviewed, and the winner selected, by the relevant panel.
If you have any queries submitting a nomination, please email [email protected].
---
2023 winner
Professor Mauro Tosco is awarded the 2023 Edward Ullendorff Medal for his immense contributions to Arabic and Semitic Philology through his numerous publications and research.
Mauro Tosco is Professor of African Linguistics at the University of Turin. Born in 1956, he graduated at the same university in Semitic Linguistics. From 1986 to 1990 he worked at the Somali National University in Mogadishu, and conducted research on the Somali language and Somali southern dialects, among which Karre and Tunni (Af Tunni: Grammar, Texts and Vocabulary of a Southern Somali Dialect, Köln 1997).
In 1988 a scholarship by the Istituto Italo-Africano allowed him to investigate Dahalo, spoken by a few hundreds on the Kenyan coast not far from Lamu and the only Afroasiatic language with a click in its phonological inventory (A Grammatical Sketch of Dahalo, Hamburg 1991).
In 1992 he became Associate Professor at the University of Naples "L'Orientale" (at that time still the "Istituto Universitario Orientale"). Since 2008 he has been at the University of Turin, where he became Full Professor of African Linguistics in 2016.
Starting 1996 he has been working in southern Ethiopia on undescribed or underdescribed Cushitic languages: Dhaasanac (The Dhaasanac Language, Köln 2001), the threatened Ongota language, with just a few remaining speakers (basic description published in 2001), and Gawwada (A grammar of Gawwada, Köln 2021, and A Gawwada Dictionary, Köln 2022). On the coast of Lake Turkana (Kenya) ha has investigated the former and partially remembered Cushitic language of the Elmolo, and in Juba (South Sudan) the Juba Arabic pidgincreole.
Tosco has so far authored or co-authored 10 monographs, edited or co-edited 10 collective books, and published more than one hundred scholarly papers, mostly on Semitic and Cushitic languages, and their classification, description and typology.
He is a native speaker of Piedmontese, and has recently published together with Emanuele Miola and Nicola Duberti the first academic description of this still unrecognized minority language of northwest Italy (A Grammar of Piedmontese, Brill 2023). Many of his more recent publications pertain to language ideology, language endangerment and the revitalization and standardization of minority languages.
"I feel humbled and honoured to have been nominated for the Edward Ullendorff Medal.
I like to think that this medal is awarded, through me, to the many small peoples of Ethiopia and their languages and cultures.
Their investigation, dissemination and, at times, protection, is one of the many ways through which we can honour the memory of Edward Ullendorff and all our great predecessors.
If diversity is richness, Ethiopia, with all its bewildering diversity, is a very rich country. Nor is its richness diminished when given to the world of knowledge: this is what Edward Ullendorff did; this is what we, scholars in Semitic languages and the languages of Ethiopia, try to do today. Following in his steps—maybe never reaching our goal, but never giving up in our efforts nevertheless."
- Professor Mauro Tosco, August 2023
---
Previous winners
2022 Professor Werner Diem, Cologne University
2021 Professor Olga Kapeliuk, Hebrew University of Jerusalem
2020 Professor Otto Jastrow, Tallinn University
2019 Professor Michael Knibb FBA, King's College London
2018 Professor John Huehnergard, University of Texas at Austin
2017 Dr Veronika Six, University of Hamburg
2016  Dr Sebastian Brock FBA, University of Oxford
2015  Dr Siegbert Uhlig, University of Hamburg
2014  Professor David Appleyard, School of African and Oriental Studies
2013  Professor Getatchew Haile FBA, Hill Museum & Manuscript Library of Saint John's University, USA
2012  Professor Simon Hopkins FBA, Hebrew University, Jerusalem
Sign up to our email newsletters