Great Thinkers: Dawn Ades FBA on John Golding FBA
3 Jun 2019
John Golding was that rare combination of outstanding art historian and successful practising painter.
Professor Dawn Ades
The artist, art historian and curator John Golding FBA's extensive career included writing the definitive book on Cubism and staging landmark exhibitions of Matisse and Picasso, as well as several solo shows of his own work. In this episode, Professor Dawn Ades FBA meets with two of Golding's former pupils and colleagues, Professor Christopher Green FBA and Professor Elizabeth Cowling. They discuss his paintings, some of which now hang in the British Academy, look back over his life and assess his enduring impact on modern art.
John Golding was surrounded by art and artists throughout his life. He was born in Hastings, East Sussex in 1929, but his family moved to Mexico City when he was very young. He studied Fine Art at the University of Toronto, Canada, making regular trips to New York City, where he encountered the work of the young artists that would come to be known as Abstract Expressionists, including Jackson Pollock, Barnett Newman and Mark Rothko.
In 1951, he returned to Europe and enrolled as a graduate student at the Courtauld Institute of Art. In 1953, he saw an exhibition on Cubism at the Musée d'art moderne in Paris and, as Ades puts it, "immediately realised that to understand the development of modern art, you had to come to terms with Cubism". He began work on the doctoral thesis that would later become his seminal book.
Throughout the intensive process of researching the thesis, Golding continued to work on his own paintings, which were exhibited in Mexico City in 1958 and 1961. Ades notes how extraordinarily different these paintings are from the works he was writing about, with far closer links to Mexican muralists such as José Clemente Orozco than to Picasso and Braque. From letters exchanged with the Mexican painter Gunther Gerzso in the 1950s, we now know that he worried about the darkness in his paintings at this time, seeing them as a reflection of his own depressed frame of mind. His painting and life changed after he met the historian James Joll in 1958 and began a happy relationship that lasted until Joll's death, almost four decades later.
In 1959, Cubism: A History and Analysis was published to critical acclaim; it is still considered the fundamental account of Cubism.Golding then took a position teaching Art of the Modern Period at the Courtauld Institute, where he would remain until 1981, teaching pupils including Ades, Green and his future co-curator, Elizabeth Cowling. He took the job on the condition that he would have time to paint; Ades recalls his reflection that, if he was at the studio in the morning, he could come into the Courtauld and teach in the afternoon, but if he'd been teaching at the Courtauld in the morning he couldn't go to the studio in the afternoon. "There was obviously a strain between the demands of teaching, which he was obviously quite extraordinary at, and his immersion in his own paintings."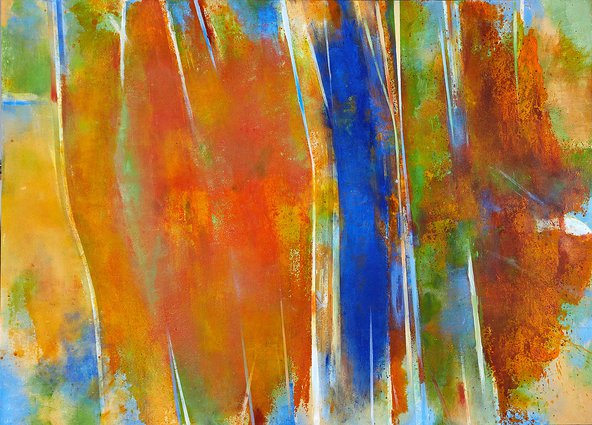 In 1981, he left academia to become Senior Paintings Tutor at the Royal College of Art. The new role allowed him more time to paint, resulting in a number of solo shows at prestigious galleries over the course of the '80s. In 1994, he was elected a Fellow of the British Academy, in the same year that the exhibition he had co-curated with Elizabeth Cowling for the Tate, Picasso: Sculptor / Painter,opened to rave reviews.
A later collaboration, Matisse Picasso proved equally successful, but left Golding exhausted. Green theorises that at around this time, Golding also worried that he was "painting himself into a corner" and had less to say as an artist. His last major works date to around 2002, although he lived another ten years, seemingly without painting.
Today, his works are held in museums around the world, including Tate and MoMA, but he is perhaps still best-known for his work on Cubism – despite his observation in the 1980s that, "I continue to enjoy looking at Cubist pictures as much as I ever did, but I have come increasingly to realise that I do not really understand them – and I'm not sure that anyone else does either."
---
Dawn Ades FBA is Emeritus Professor of Art History and Theory at the University of Essex. She recently curated the Dalí / Duchamp exhibition at the Royal Academy of Arts and Dalí Museum.
Christopher Green FBA is Emeritus Professor of the History of Art at the Courtauld Institute of Art and has curated exhibitions on artists including Juan Gris, Pablo Picasso and Roger Fry.
Elizabeth Cowling is Emeritus Professor of the History of Art at Edinburgh University. She co-curated exhibitions including Picasso: Sculptor / Painter and Matisse Picasso with John Golding.
Sign up to our email newsletters