10-Minute Talks: Dealing with the past in Northern Ireland
by Professor Kieran McEvoy FBA
24 Mar 2021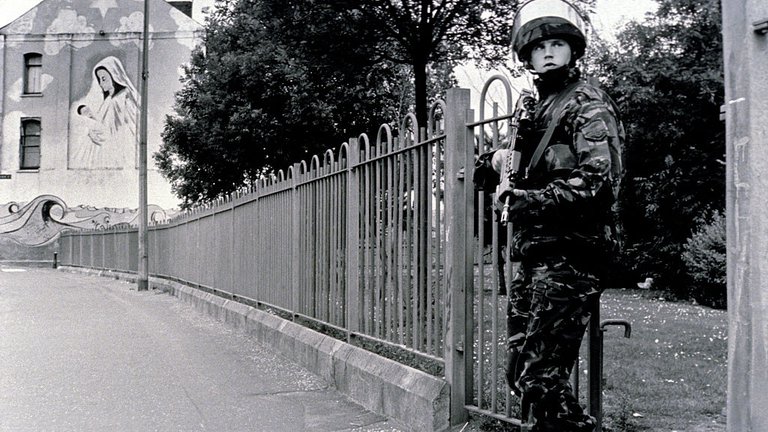 Subscribe to this podcast via your chosen service
Professor Kieran McEvoy FBA discusses dealing with the past in relation to the Northern Ireland conflict. This talk was part of the Imagine! Belfast Festival of Ideas and Politics 2021.
Transcript
Hello. I'm Kieran McEvoy, I'm a Professor of Law and Transitional Justice and a Fellow of the British Academy, and I work here in Queen's University in Belfast, and this talk is part of the Imagine! Belfast Festival 2021.
The field that I work in, transitional justice, is the field of dealing with the past. It's basically a focus on societies that have come thorough conflict or periods of authoritarianism, what they do to address past violence, past human rights abuses, and includes considering institutions and processes like truth commissions, amnesties, reparations programmes, helping victims, dealing with ex-combatants, apologies. These are the kinds of areas that I work on.
I've worked in about 12 different post-conflict or post-authoritarian contexts around the world, and I've also, with colleagues here in Queen's, Louise Mallinder and Anna Bryson in particular, worked very closely with the local human rights NGO, the Committee on the Administration of Justice, on trying to find lawful, human rights-compliant ways of addressing the past here in Northern Ireland and drawing upon the experiences of other societies in doing that.
The key challenge that we face here in Northern Ireland is on one hand how to address the needs of victims, particularly around truth, around what happened here in the conflict. At the same time, in the last three or four years there has been a particular pressure coming from Britain about addressing the needs of veterans. How do we strike a balance between those two things? That is the focus of my talk today.
Dealing with the past in Northern Ireland has been quite a significant challenge. William Faulkner famously said "the past is never dead, it's not even past." That's certainly the case in Northern Ireland. When the Good Friday Agreement was signed in 1998, the people who negotiated it took the view that if they had tried to include provisions for dealing with the past, for example, a truth commission as part of negotiations, they would have never got the deal over the line. That was probably true at that time, it was already a very complicated set of political negotiations.
What that meant, however, is that after 1998 what we have had is a piecemeal approach to the past, wherein different bits of the criminal justice system have in effect been carrying the load. So we've had police investigations, we've had a very small number of conflict-related prosecutions, we've had investigations by the Police Ombudsman's office, we've had the Inquest system, we've had a number of very high-profile public inquiries into particular events, Bloody Sunday being the best known. But there has been no overarching way for dealing with the past.
Finally in 2013 and 2014, after months and months of negotiations, a deal was reached between the British and Irish governments and the five main local political parties here in Northern Ireland called the Stormont House Agreement to set up mechanisms for dealing with the past. Draft legislation was ultimately prepared – it was a very long process. A draft Bill was prepared in 2018 and circulated for a public consultation in 2018-2019. 17,500 people responded to that consultation and then the government were due to introduce the Act.
In January of 2020 the British government said it would introduce the Act within 100 days, as part of the agreement to re-establish devolution here in Northern Ireland. That was under the previous Secretary of State Julian Smith. That was January 2020.
By March 2020 Julian Smith had been sacked and there was some speculation it may have been because of his role in negotiating this particular legacy provision of that deal. He was replaced by Brandon Lewis. Brandon Lewis then in March of 2020 said in a statement in Westminster that while the government was still committed to the "spirit" of the Stormont House Agreement, they were minded to make significant changes to that and that secondly, they were also minded to introduce equivalent levels of protection to British soldiers, as was being put forward in a separate bill for veterans who served overseas. So in other words, the government was stating its intention to introduce an amnesty or a statute of limitations.
So in effect, the UK government was rolling back unilaterally from a position in January where they said they were going to implement the deal within 100 days, to two months later stepping back from that deal. That unilateral step went down extremely badly on this side of the Irish Sea. The Irish government were very upset and three of the local political parties saw this as a unilateral U-turn on the part of the British government. Then COVID came in and the legislation stalled, and that's where we're at basically.
In terms of what's in the Stormont House Agreement, the statement that's created so much controversy, it's a complicated architecture but there are four different mechanisms. One of those mechanisms is an independent, police-led investigation into outstanding conflict-related cases, and that mechanism is called the Historical Investigation Unit. A second mechanism is the Independent Commission on Information Retrieval. It is a mechanism wherein ex-combatants or former security forces personnel could give information within a particular institution, knowing that that information can't be used for prosecutorial purposes. So it's designed to facilitate information or truth recovery going to victims, but not prosecutions. The third mechanism is an oral history archive which is a story telling mechanism, a way in which people can have their experiences of the conflict recorded for posterity and broadening the focus beyond just deaths, exploring all kinds of different themes: for example, it could be gender, it could be the experiences of nurses, doctors, people who've worked in the health system, any aspect of people who were affected by the conflict. The fourth element is called the Implementation and Reconciliation Group. It's designed to pull together the big-picture narrative of what happened during the conflict. So that's the victim-centred set of mechanisms that were agreed in 2014 and were meant to be introduced in 2020.
The other side of the equation is the veterans' issue and there has been a lot of discussion, particularly in Britain around a so-called "witch hunt" against veterans. This witch-hunt refers to conflict--related investigations and prosecutions of veterans who served here in Northern Ireland. This was stimulated in part by a number of conflict-related cases emerging and coming before the courts here in Northern Ireland. The Defence Select Committee held hearings on it in 2017 (I and others gave evidence to them) where they basically advocated for a statute of limitations – an amnesty in other words – for British soldiers, knowing that amnesty, inevitably, would be applied across the board to non-state actors, to the paramilitaries as well.
To summarise, the witch-hunt narrative is fake news, essentially. Since 2015 the DPP of Northern Ireland, the Director of Public Prosecutions, has initiated 17 legacy prosecutions, eight against Republicans, four against Loyalists and five against British soldiers. The problem in terms of the state killings during the conflict is that a lot of them were never properly investigated in the first place, so for example, between 1970 and 1974 there were 170 army killings here in Northern Ireland. 63 per cent of those who were killed were indisputably unarmed, 12 per cent of those people were actually armed, 14 per cent of people were possibly armed. No prosecutions at all took place during that period. The investigations were done by the army themselves, by the Royal Military Police. They were very poor investigations, sometimes taking the form of a debriefing. Witnesses often weren't contacted or interviewed, soldiers weren't interviewed under a caution. They just don't stand up as proper investigations.
So what has been happening is as those old cases have come up and been properly investigated by the police now, in a small number of cases evidence has emerged that would meet the standard for prosecutions, and a small number of people – five cases, six soldiers – ended up before the courts. The bottom line is no one is going to jail for more than two years anyway under the terms of the Good Friday Agreement. State or non-state actors – the maximum anyone can go to prison for is two years. So how do we do this? How do we square this circle? On the one hand, addressing the need and rights of victims to information recovery about what happened during the conflict, and second the political pressures, which are primarily in Britain, around addressing the needs of elderly veterans who served here.
So here's my suggestions as to how we square the circle. First, step one, we actually introduce the Stormont House legislation that the government agreed to with the Irish government and the five local political parties in 2014 and has been stalling on ever since, and live up to the commitment that was made in January 2014 and restated in January 2020. So introduce the legislation that will bring some closure to victims after all of those years and work in partnership with the Irish government and the local political parties. No more unilateral moves.
Secondly, in terms of addressing the veterans' issue, I think all of us who have worked on these issues recognise that it is a political pressure point. This is a populist right-wing Conservative government, and it is addressing people who have significant concerns about the military. So it is a significant problem there that needs to be addressed. Amnesty is not the way forward on that, because first of all an amnesty would apply across the board to the state and non-state actors. Indeed, any mechanism that we look at will inevitably apply to both state and non-state actors. Amnesty is opposed, here in Northern Ireland, across the spectrum, both by nationalist and unionist parties. None of the main political parties on this side of the water have argued for an amnesty, so that's not the way forward.
What we would suggest is kind of a halfway house. What should happen is that the Stormont House Agreement should be implemented, therein addressing the needs of victims. However, there is a legal mechanism that already exists under the Northern Ireland Sentences Act, which was the legislation introduced to facilitate the early release of paramilitary prisoners and indeed any serving soldiers in 1998 under the Good Friday Agreement. It's the legal mechanism that establishes the two-year max jail time for conflict-related offenses. The power already exists to reduce that two-year max to zero. What would happen in that context is that one would still have investigations, you would still have prosecutions, you would still have a trial if the threshold was met, but no-one would go to jail. That's the compromise, in effect. The rule of law is upheld, victims would get all of their rights addressed by the mechanisms of the Stormont House Agreement, but the political problem that the government is facing around the pressure on veterans, they would be able to turn to their back benchers and say, "Look, no-one is going to jail here, that's our compromise".
That's our job as academics in all of this – to try to encourage lawful and human rights-compliant and politically workable compromises.
I'll finish on this point. My son is eight years of age and he's obsessed with Horrible Histories. I was watching it with him the other night. There's a character in Horrible Histories called Mr Hexagon who has a fake chat show with what he terms "History's Craziest Fools", which focuses on the follies of historical figures. His catchphrase is to "stay away from stupid yo", that's what he says at the end of each interview with historical figures who have made big mistakes. In this context, where the government appears determined to introduce an amnesty for British soldiers, while at the same time reneging on commitments that have been made to victims. This is happening in a politically volatile context, contemporary Northern Ireland, with post-Brexit tensions, the protocol and all of the rest of that – this would be folly in the extreme.
My advice for Boris Johnson and his government would be "please stay away from stupid yo". Thank you.
---
This talk originally took place on 24 March 2021, part of the series The British Academy 10-Minute Talks, where the world's leading professors explain the latest thinking in the humanities and social sciences in just 10 minutes. 10-Minute Talks are screened each Wednesday, 13:00-13:10, on YouTube and available on Apple Podcasts. Subscribe to the British Academy 10-Minute Talks here.
---
Further reading
Dealing with the past in Northern Ireland project website.
"Making peace with the past in Northern Ireland", article in The Guardian by Kieran McEvoy.
Transitional Justice from Below: Grassroots Activism and the Struggle for Change - Human Rights Law in Perspective, book by Kieran McEvoy.
Paramilitary Imprisonment in Northern Ireland: Resistance, Management, and Release - Clarendon Studies in Criminology, book by Kieran McEvoy.
Transitional Justice, edited by Kieran McEvoy, Louise Mallinder.
In partnership with the Imagine! Belfast Festival 2021
Sign up to our email newsletters