British Academy and Arts and Humanities Research Council partner with the School of Advanced Studies for Being Human Festival
27 Jun 2016
The British Academy is one of the partners of the Being Human Festival of the humanities, which launches today, Monday 27 June 2016, with a summer showcase in London.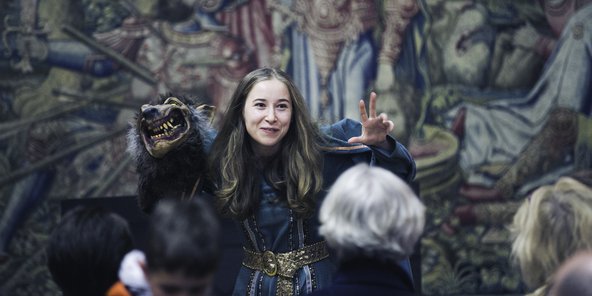 Led by the School of Advanced Study at the University of London (SAS), in partnership with the Arts & Humanities Research Council (AHRC) and the British Academy, the Being Human Festival is the UK's only celebration of humanities research.
The nine-day programme in November 2016 will be incorporate a diverse range of free events themed around 'hope and fear'.
Highlights include a conversation with a former prisoner of ISIS, an evening of urban shamanism in south London's Cross Bones Graveyard for the 'outcast dead', a vertigo-inducing installation in the towers of the Tyne Bridge, 'Fright Friday' at Oxford's Ashmolean Museum and stories of precarious journeys told through music, dance and drama.  There are also designated 'hubs' for festival activity outside London, in Dundee, Liverpool, Leeds, Nottingham, Swansea and Exeter.
Alun Evans, Chief Executive of the British Academy, said:
"The British Academy for the humanities and social sciences is delighted to support this year's Being Human Festival. An exploration of hope and fear is certainly topical in the current political climate. It is essential that we celebrate and showcase the work of innovative humanities researchers, who can help us to understand people, culture and the society in which we live."
The director of the Being Human Festival, Professor Sarah Churchwell, said:
"We are excited to introduce an annual summer showcase of the best of the previous year's festival, turning Senate House in central London into a day-long celebration of the best of humanities research in the UK.
'In this time of uncertainty and growing division, understanding the human world - learning from history, resolving conflict, telling stories about who we are and how we can come together - is more vital than ever. We're proud to showcase some of the most innovative and thought-provoking examples of the value humanities research brings to our society."
Places are still available for self-funded events to be included in this year's programme. Applications should be made by 30 June via www.beinghumanfestival.org.   
For more information, please visit www.beinghumanfestival.org or follow the festival on Twitter: @BeingHumanFest.
Sign up to our email newsletters