Professor Stephen Halliwell FBA
Greek literature, especially drama; ancient poetics and aesthetics, especially in Plato, Aristotle and Longinus
Elected 2014
Year elected

2014

Sections
Stephen Halliwell was Professor of Greek at St Andrews from 1995 to 2020 and Wardlaw Professor of Classics from 2014 to 2020. He received his MA and DPhil from the University of Oxford, where his doctoral thesis on Aristophanes was supervised by Sir Kenneth Dover. He has taught at the universities of Birmingham, Cambridge – where he was a Fellow of Corpus Christi College – London and Oxford – where he was a lecturer at Jesus College – and has held six visiting professorships in Belgium (Louvain), Canada (McMaster), Italy (Rome), and the USA (Chicago, Cornell, Riverside). He has given some 200 invited research lectures in 18 countries, including papers in French, German and Italian. He has worked as an assessor for research councils and institutes in ten countries and has served on numerous boards, including those of the Classical Association of Scotland, the Collegium for Advanced Studies (Helsinki), the Council of University Classics Departments, the journal Greece and Rome, the Languages, Literature and History sectional committee of the Royal Society of Edinburgh and the Society for the Promotion of Hellenic Studies. Two of his books have won international prizes – The Aesthetics of Mimesis was awarded the Premio Europeo di Estetica 2008, and Greek Laughter the Criticos Prize 2008. His major edition of Pseudo-Longinus, On the Sublime, was commissioned by the Lorenzo Valla Foundation and published first in Italian (Mondadori, 2021) before appearing in English (Oxford University Press, 2022).
Current post
University of St Andrews
Wardlaw Professor Emeritus of Greek
2020

-
Past appointments
University of St Andrews
Wardlaw Professor of Classics
2014

-

2020
University of St Andrews
Professor of Greek
1995

-

2020
University of Birmingham
Lecturer, Senior Lecturer, Reader in Classics
1984

-

1995
University of Cambridge
Fellow of Corpus Christi College
1982

-

1984
Westfield College
Lecturer in Classics
1980

-

1982
Jesus College, University of Oxford
College Lecturer
1979

-

1980
Top picks
Radio
Stephen Halliwell discusses arguably the most influential of all works of literary theory on 'In Our Time' with Lord Melvyn Bragg FBA (Hon) and Professor Angie Hobbs.
Aristotle's Poetics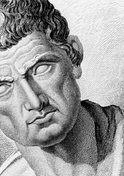 Article
Stephen Halliwell writes for the Oxford University Press about the theory that a comedic play by Aristophanes helped bring about the death of Socrates.
Did comedy kill Socrates?
Video
Stephen Halliwell gives a lecture at the Institute for Philosophy and Religion as part of their series 'Beyond Aesthetics: Philosophical and Theological Construals of Art'
Greek Gods and the Archaic Aesthetics of Life

Sign up to our email newsletters