Professor Gülru Necipoğlu FBA
Ottoman and Mediterranean architectural history; premodern Islamic art and architecture; artistic cosmopolitanism of early modern Islamicate empires; visual culture and history of science; aesthetics of abstraction and ornament; critical historiography
Elected 2020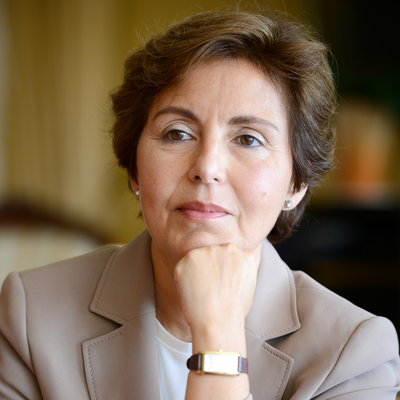 Fellow type

Corresponding Fellow

Year elected

2020

Sections
Gülru Necipoğlu has been the Aga Khan Professor and Director of the Aga Khan Program for Islamic Architecture since 1993 at Harvard University's History of Art and Architecture Department, where she earned her PhD in 1986 and started teaching as an Assistant Professor. She specialises in the arts and architecture of the pre-modern Islamic lands, with a focus on the Mediterranean. She is interested in questions of aesthetic cosmopolitanism, transregional connectivity between early modern Islamicate empires (Ottoman Turkey, Safavid Iran, Mughal India), and cross-cultural artistic exchanges with Byzantium and Renaissance Europe. Her studies have also addressed architectural practices from Timurid-Turkmen to early modern empires (15th-17th centuries), with a focus on plans and drawings, the aesthetics of abstract ornament, and geometric design. Her critical interests encompass methodological and historiographical issues in modern constructions of the field of Islamic art.
Professor Necipoğlu is the editor of the journal Muqarnas: An Annual on the Visual Cultures of the Islamic World (Brill, vols. 10-37) and Supplements to Muqarnas (vols. 9-14). She recently edited the following volumes: Treasures of Knowledge: An Inventory of the Ottoman Palace Library (1502/3-1503/4) (Brill, 2 vols., 2019, co-editors Cemal Kafadar and Cornell H. Fleischer); The Arts of Ornamental Geometry: A Persian Compendium on Similar and Complementary Interlocking Figures (Brill, 2017: winner of the 26th World Award for Book of the Year, awarded by the Iran Ministry of Culture and Book Award Secretariat); A Companion to Islamic Art and Architecture, in the Wiley-Blackwell Companions to Art History (co-editor F. Barry Flood, 2017); and Histories of Ornament: From Global to Local (Princeton, co-editor Alina Payne, 2016).
Professor Necipoğlu is an elected member of the American Philosophical Society, the American Academy of Arts and Sciences, and the Centro Internazionale di Studi di Archittettura Andrea Palladio in Vicenza, Italy. She was appointed Slade Professor of Fine Art in the University of Cambridge, with an affiliation at Pembroke College in 2013 and Guest Faculty Scholar at the Kunsthistorisches Institut of Florence in 2014.
Current post
Harvard University
Aga Khan Professor of Islamic Art and Director of the Aga Khan Program for Islamic Architecture
Sign up to our email newsletters