Professor April McMahon FBA
Linguistics; Historical Linguistics; Phonetics and Phonology
Elected 2005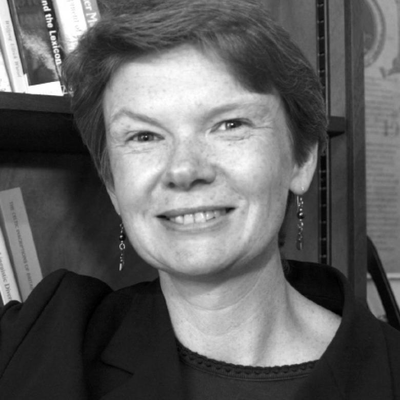 Year elected

2005

Sections
Professor April McMahon has been Vice-President for Teaching, Learning and Students at the University of Manchester since October 2019. Previously, she held academic and leadership roles at the Universities of Cambridge, Sheffield, Edinburgh, Aberystwyth and Kent. Her main priorities are equality of access, awarding and progression for all students; partnership working with students; enhancement of teaching quality and student experiences; and recognition and reward for excellence in teaching.
April was born in Edinburgh and grew up in the Scottish Borders. She was first in her family to go to university and took her MA and PhD at Edinburgh – where she was very proud to be awarded an Honorary Doctorate in 2014.
April's academic field is linguistics. Her research interests include how and why languages change; the use of computational methods to group languages into families; the evolution of language in humans; and the history of varieties of English and Scots. She has published 11 books and a wide range of articles and book chapters, with recent projects focusing on textbooks and resources for teaching.
April is a Fellow of the British Academy, the Royal Society of Edinburgh, and the Learned Society of Wales. Within the British Academy, she currently chairs the Audit Committee, and is a member of the Research and Higher Education Policy Committee. She has a lively interest in leadership training and development. With a strong commitment to enhancement of education and the student experience, she has been closely involved with the Teaching Excellence and Student Outcomes Framework, most recently as Chair of the TEF Subject Pilot Humanities Panel and a member of the Subject Pilot Main Panel. She is an Honorary Fellow of Selwyn College, Cambridge, a member of the Board of Trustees of LAMDA, and a Principal Fellow of the Higher Education Academy.
Current post
University of Manchester
Vice-President for Teaching, Learning and Students
Past appointments
University of Kent
Deputy Vice-Chancellor Education
2016

-

2019
Aberystwyth University
Vice-Chancellor
2011

-

2016
University of Edinburgh
Vice Principal Planning, Resources and Research Policy, University of Edinburgh
2008

-

2011
University of Edinburgh
Forbes Professor of English Language
2005

-

2011
The University of Sheffield
Professor of English Language and Linguistics
2000

-

2004
Selwyn College University of Cambridge
Lecturer in Linguistics
1988

-

2000
Sign up to our email newsletters