2018 Nayef Al-Rodhan Prize
Six books were shortlisted for the British Academy's £25,000 non-fiction book prize, awarded annually for a book that contributes to public understanding of world cultures.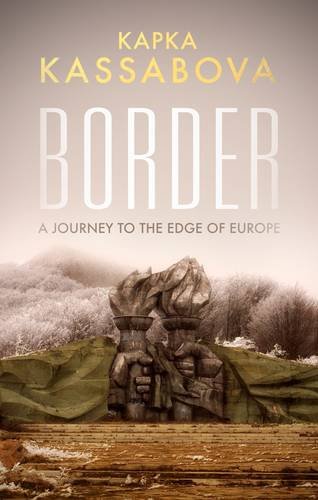 A sharply observed portrait of a little-known corner of Europe, and a fascinating meditation on the borderlines that exist between countries, between cultures, between people, and within each of us
In Border: A Journey to the Edge of Europe, Kapka Kassabova sets out on a journey to meet the people of this triple border of Bulgaria, Turkey, Greece, and the latest wave of refugees fleeing conflict further afield. As Kassabova explores this enigmatic region in the company of border guards and treasure hunters, entrepreneurs and botanists, psychic healers and ritual fire-walkers, refugees and smugglers, she traces the physical and psychological borders that criss-cross its villages and mountains, and goes in search of the stories that will unlock its secrets.
Kapka Kassabova was born in Sofia, Bulgaria, university educated in New Zealand, and now lives in the Scottish Highlands. She is a poet and author of the acclaimed memoirs Street Without a Name and Twelve Minutes of Love. She has written for The Sunday Times, The Guardian, Vogue, and 1843 magazine.
Looking behind the sensationalist headlines in order to foster a genuine understanding of Islam and its relationship to the West. Essential reading for anyone engaged in the state of the world today
The Muslim world has often been accused of a failure to modernise and adapt. Yet in this sweeping narrative and provocative retelling of modern history, Christopher de Bellaigue charts the forgotten story of the Islamic Enlightenment – the social movements, reforms and revolutions that transfigured the Middle East from the early 19th century to the present day. Modern ideals and practices were embraced across the region, including the adoption of modern medicine, the emergence of women from purdah and the development of democracy.
Christopher de Bellaigue was born in London in 1971, and was educated at Cambridge University, where he read Iranian and Indian Studies. Between 1995 and 2007, he lived and worked as a journalist in south Asia and the Middle East. He is the award-winning author of four books, including Patriot of Persia and has made several BBC television and radio programmes. He lives in London.
A timely and urgent account of life in Britain today, a call to action filled with real-life experience, hard truths and important suggestions for our future
The face of Britain is changing. The Muslim population has more than doubled over the last twenty years, and is projected to do so again over the next twenty. A societal shift of this size and speed has inevitably brought growing pains, with the impact on our communities becoming ever more profound – as well as painful, because in the eyes of many, Islam has a problem: the extremist views of a tiny minority, which, when translated into action, can result in catastrophic violence. In this groundbreaking book, James Fergusson travels the length of Britain to evaluate the impact these seismic shifts have had on our communities. With the rise of nationalist movements, growing racial tensions and an increasingly out of touch political elite, what does it mean to be a Muslim in Britain? What is life like on both sides of this growing religious divide? And what can we do to heal the fractures appearing in our national fabric?
James Fergusson is a freelance journalist and foreign correspondent, who has written for many publications including The Independent, The Times, The Daily Mail and The Economist. A regular television and radio commentator on Africa and the Middle East, he is the author of five previous books including the award-winning A Million Bullets. He is married with four children and lives in Edinburgh.
A transformative history – in Tudor times there were Africans living and working in Britain, and they were free
A black porter publicly whips a white Englishman in the hall of a Gloucestershire manor house. A Moroccan woman is baptised in a London church. Henry VIII dispatches a Mauritanian diver to salvage lost treasures from the Mary Rose. From long-forgotten records emerge the remarkable stories of Africans who lived free in Tudor England, present at some of the defining moments of the age. They were christened, married and buried by the Church. They were paid wages like any other Tudors. The untold stories of the black Tudors, dazzlingly brought to life by Kaufmann, will transform how we see this most intriguing period of history.
Miranda Kaufmann is a Senior Research Fellow at the University of London's Institute of Commonwealth Studies. Her first book, Black Tudors, was shortlisted for the Wolfson History Prize 2018. She has appeared on Sky News, the BBC and Al Jazeera, and she's written for The Times, The Guardian and BBC History Magazine. She lives in Pontblyddyn in North Wales.
Souad Mekhennet is an ideal guide to introduce us to the human beings behind the ominous headlines, as she shares her transformative journey
For her whole life, Souad Mekhennet, a reporter for The Washington Post, who was born and educated in Germany, has had to balance the two sides of her upbringing – Muslim and Western. She has also sought to provide a mediating voice between these cultures, which too often misunderstand each other. In this compelling and evocative memoir, we accompany Mekhennet as she journeys behind the lines of jihad, starting in the German neighbourhoods where the 9/11 plotters were radicalised, and the Iraqi neighbourhoods where Sunnis and Shia turned against one another, and culminating on the Turkish/Syrian border region, where ISIS is a daily presence. In her travels across the Middle East and North Africa, she documents her chilling run-ins with various intelligence services and shows why the Arab Spring never lived up to its promise. She then returns to Europe, first in London, where she uncovers the identity of the notorious ISIS executioner "Jihadi John", and then in France, Belgium and her native Germany, where terror has come to the heart of Western civilisation.
Souad Mekhennet is an award-winning author and national security correspondent for The Washington Post. She also contributes to the German television station, ZDF, and has reported on terrorism for The New York Times and other news organisations.
In her most ambitious book to date, Dame Anne Salmond looks at New Zealand as a site of cosmo-diversity, a place where multiple worlds engage and collide.
Six centuries ago Polynesian explorers, who inhabited a cosmos in which islands sailed across the sea and stars across the sky, arrived in Aotearoa New Zealand where they rapidly adapted to new plants, animals, landscapes and climatic conditions. We live in a world of gridded maps, Outlook calendars and balance sheets – making it seem that this is the nature of reality itself. But in New Zealand, concepts of whakapapa and hau, complex networks and reciprocal exchange, may point to new ways of understanding interactions between peoples, and between people and the natural world. Like our ancestors, Anne Salmond suggests, we too may have a chance to experiment across worlds.
Dame Anne Salmond FBA is a Distinguished Professor at the University of Auckland, New Zealand. Professor Salmond is the author of Hui: A Study of Maori Ceremonial Gatherings; Amiria: The Life Story of a Maori Woman; and Eruera: The Teachings of a Maori Elder which she co-wrote with Eruera Stirling. She received the CBE for services to literature and the Maori people in 1988 and was made Dame Commander of the British Empire for services to New Zealand history in 1995. She lives in Devonport, Auckland.
Sign up to our email newsletters