How the words of a 12th-century text reveal a multilingual medieval world
by Professor Máire Ní Mhaonaigh
15 Jun 2020
Extensive networks and international communications are often thought of as modern phenomena. Opinions are swiftly disseminated; words and texts can be electronically transmitted to various corners of the globe. The ease with which information can be imparted may be a particular feature of contemporary society, but contacts and connections with a wider world have been a defining aspect of past communities as well.
For the Viking period, this is evident in archaeological finds bearing witness to dynamic exchange from Dublin, via Scandinavia, to Baghdad and beyond. Along such extended trade routes, ideas as well as objects were interchanged. Functional multilingualism facilitated such transactions. Widespread use in certain circles of the medieval equivalents of global English – Latin, Greek, Arabic – enabled intense interaction and discussion and transference of knowledge and views.
Clues in contemporary stories
Traces found along the earlier Silk Road, as part of a Viking hub, or in a medieval monastery, for example, provide the means by which a map of earlier interconnections can be sketched. Intricate layers of interaction are evident when examining early texts. Each source tells its own complex story, its content, language and history revealing influences and moulds. They form microcosmic strands in an overarching complex web, providing concrete evidence for specific contacts in a given time and space.
Research supported by the British Academy allowed me to study one such source, a 12th-century narrative from medieval Ireland. It chronicles Viking attacks on various parts of the country and the resistance to them provided by one southern dynasty under their king, Brian Boru (ancestors to the O'Briens). Presented as a strategic, skilful hero, he is depicted as continually opposing a ferocious Scandinavian foe, ultimately losing his life in a final encounter against them at the battle of Clontarf, a historical event fought in 1014.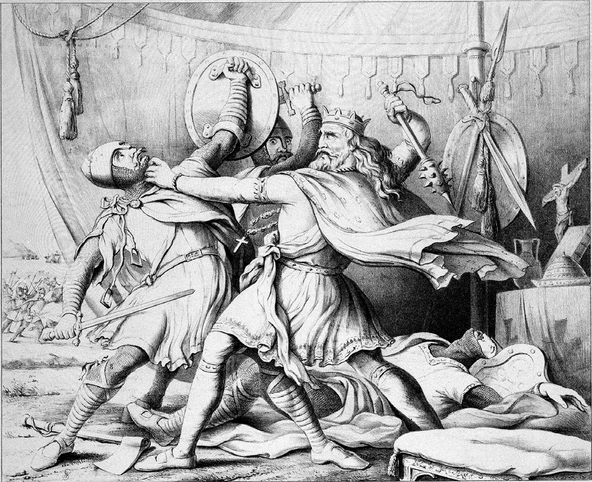 The title of this lengthy literary account, 'The War of the Irish (Gael) against Foreigner (Gall)' (Cogadh Gáedhel re Gallaibh), as well as its bombastic tone sets it out as a stereotypical story of 'us v. them'. What can such a text then tell us about actual contacts between Norse and Irish at the time of its composition?
Varying literary perspectives
By the early 12th century, when the narrative was written, Scandinavians had long since settled in Ireland and formed an important, integrated part of medieval Irish political and cultural life. This is conveniently set aside in the biased literary account, intent on presenting Brian Boru – and hence his successors – in the best possible light. Dublin was an important political centre and one which Brian's descendants sought to control. Among the many recipients of the text's unsubtle message may have been Dublin's Norse elite, some of whom were trilingual in Latin, Irish and Norse. The story of Clontarf also circulated in the Isle of Man, where Brian Boru's grandson and great-grandson had considerable interests. It was there that an Old Norse story of the battle was written, which was later adapted and incorporated into 13th-century Icelandic sagas such as that of Burnt Njáll (Njáls saga).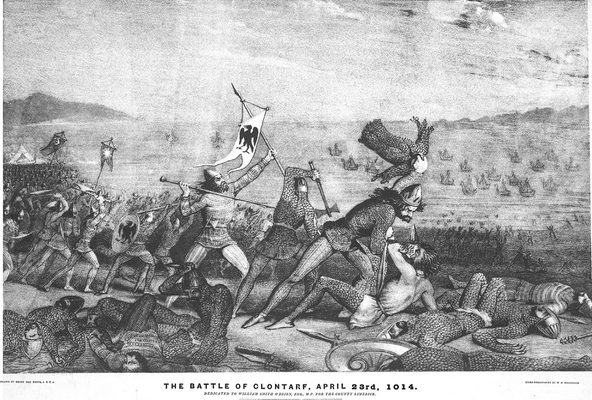 Norse and Irish versions of the battle of Clontarf encapsulate ongoing learned contacts between Ireland and the Isle of Man and from there to Iceland. Moreover, evidence for Irish sources at the court of King Hákon IV of Norway around the same time suggest that these channels of communication encompassed Norway, too. The material to which Hákon had access included much material in Latin. Furthermore, writing more than a century earlier, the author of the Irish Clontarf narrative drew on classical material, alluding to the story of Troy on various occasions and so suggesting a parallel between that foundational encounter and the conflict celebrated in his own account. These texts point to multilingual, learned scholars who formed part of a vibrant, extensive intellectual world.
Tracing the changing meanings of words
That interconnected cultural world is often vividly portrayed in the very words they employ. Thus, medical terms are often derived from Latin (as Sharon Arbuthnot and others have discussed), sometimes in the form of literal translations such as máthair chruaidh, 'a hard mother': the exact equivalent of the dura mater, the term used in English for the outer membrane around the brain and spinal chord. How words evolve can also elucidate relationships. Bérla was the medieval Irish word for language or speech (and related to the word for mouth, bél). Among the 72 languages heard at the Tower of Babel – and allegedly the best of them – was 'Ireland's language' (bérla Érenn), Irish, according to an eighth-century poetic manual, Auraicept na nÉces (The Poets' Primer). When coupled with the adjective 'white', bérla bán signified the language of the scriptures, Latin. As contacts with English increased from the late 12th and 13th centuries, the meaning of bérla gradually narrowed and was applied to the English language alone. Changing words thus reveal changing worlds.
The language of medieval texts holds much more meaning, therefore, than that of mere words on the page. Combined with an understanding of the texts' socio-cultural context, they provide a gateway to a networked, interwoven, extended cultural sphere. Transmission of texts and terms may have proceeded more slowly than in today's technological world. But the effects of medieval channels of communication could well prove more enduring than those that operate today.
---
Máire Ní Mhaonaigh is Professor of Celtic and Medieval Studies and a Fellow at St John's College, University of Cambridge. She received a BA/Leverhulme Trust Senior Research Fellowship in 2016-17. Her research into changing words and changing worlds featured in our British Academy Virtual Summer Showcase.
Further reading
Colmán Etchingham, Jón Viðar Sigurðsson, Máire Ní Mhaonaigh and Elizabeth Ashman Rowe, Norse-Gaelic Contacts in a Viking World: Studies in the Literature and History of Norway, Iceland, Ireland and the Isle of Man (Turnhout, 2019)
Sharon Arbuthnot, Máire Ní Mhaonaigh and Gregory Toner, A History of Ireland in 100 Words (Dublin, 2019)
Sharon Arbuthnot, Late Medieval Irish Medicalese and its European Context, in Sarah Baccianti (ed.), Science and Medicine in the Insular Middle Ages (Brepols, forthcoming).
If you like discovering more about the humanities and social sciences, join us at our Summer Showcase 2022, a free festival of ideas #ForCuriousMinds, 17-18 June. Book now.
Sign up to our email newsletters