Delivering sustainable energy in urban Mozambique
by Professor Vanesa Castán Broto
23 May 2019
This blog post is part of our Summer Showcase series, celebrating our free festival of ideas for curious minds.
---
Over one billion people around the world still lack reliable access to electricity. Three times more people depend on highly polluting fuels.
It is the aim of several international energy policy goals, consolidated into a single Sustainable Development Goal, to combat these daunting statistics. SDG-7 supports the emergence of new programmes for energy access that recognise the interconnectedness of energy access and GHG emissions goals. However, addressing this goal in countries with massive gaps in energy access, such as Mozambique, requires a better understanding of how people experience energy needs and how barriers to energy access can be lifted within existing political and economic systems.
For the last three decades, it has been assumed that urbanisation and electrification go hand in hand. However, research on urban areas has demonstrated that energy deprivation still occurs under the umbrella of an energy network. Insecure land tenure, poor infrastructure, exclusionary institutional systems and affordability are just some of the factors that affect energy access in urban areas.
Energy access in urban Mozambique
The project Sustainable Energy Access in Mozambique sought to understand what prevents people from accessing electricity and fuels. We adopted a multi-level perspective examining political, infrastructure and institutional factors. The main innovation of the project was to base our analysis of energy access on the everyday experiences of using energy.
At least 23 million people in Mozambique lack access to electricity; many more depend on firewood and charcoal for cooking. Precarious access to services exacerbates people's vulnerability to disasters – estimates suggest that over three million people are facing extreme deprivation following Cyclone Idai, which hit the coast of Mozambique in March 2019. Access to energy for services such as cooking, heat and communication are crucial to ensure people's survival in the aftermath of extreme events.
In Mozambique, densely populated areas, especially in the country's two largest cities, Maputo and Matola, have benefited from the efforts of a public utility company, Electricidade de Moçambique, to expand the electricity network. However, most households still depend on charcoal and intermittent access to electricity. Take for instance this extract from an interview with an unemployed person in Bairro dos Pescadores, a coastal community in the north of the city:
"I have the wiring, but the connection is not current. I don't have money to turn on the connection. It was functional in the past; I've been disconnected for about one month four days."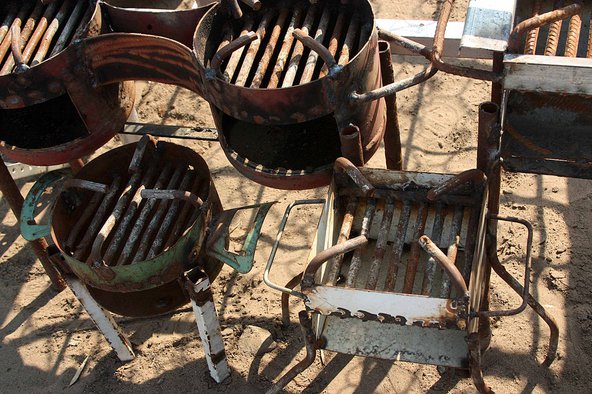 Living without reliable energy
Citizens may have strategies to manage unaffordability, for example, disconnecting the supply temporarily or fractioning electricity payments. The distribution of electricity is uneven and varies across neighborhoods, but charcoal is ubiquitous across the whole city.
Household members adjust their energy uses depending on the resources available to them. They combine multiple fuels to secure supply, varying their own needs to cope with moments of scarcity. As one resident of the central neighborhood Polana Caniço explained: "there are times when we don't have any fuels. [Then] we look for firewood. Or we start to buy the small amounts of charcoal waiting for the end of the month".  
Urban citizens in Maputo's diverse neighborhoods have developed multiple strategies to live with the resources they have available, such as vernacular styles of architecture that reduce the need for space heating and space cooling, outdoor spaces for cooking that reduce indoor pollution, and social practices to reduce accidents around charcoal cookstoves. They have built habitable energy landscapes with the resources they have at hand, often creating thriving spaces despite the conditions of deprivation.
How energy access reveals wider injustices
However, there is a fundamental injustice behind these expressions of urban resilience. First, people who lack electricity or fuels find themselves in an urban economy whose opportunities depend on having access to energy. For example, those who lack appliances and cook with charcoal, mostly women and children, spend a disproportionate amount of time on household tasks, missing other opportunities for personal and professional development. People who spend most of the day tending the cookstove and cooking may not be able to participate as actively in political and decision-making processes.
Many livelihoods depend on networks maintained through social media, accessed through mobile phones that require a charging station of sorts. As both society and the economy change, those who lack access to energy may find themselves facing a double struggle: to cope with lack of access while at the same time dealing with changing conditions of living.
There is another injustice embedded in the fact that people living with suppressed access to energy have some of the lowest emissions per capita in the world. To put this in perspective, the average per capita emissions for Mozambique in 2013 were 32 times less than the world's average.[1] However, while industrialised nations bear the responsibility for climate change, the impacts are often suffered by those who still lack access to energy, as seen by the devastating impact of Cyclone Idai in the coastal city of Beira, in central Mozambique. Lack of access to energy reduces people's capacity to respond to and anticipate disasters, as access to fuels and communication technologies may determine people's ability to survive.
We need to recognise how people build energy landscapes that enable them to live in conditions of deprivation. An understanding of how energy is used in everyday life will support the development of energy policies that address the needs of the urban poor directly. However, we must also recognise the injustices embedded in the global energy system and directly address the fundamental inequalities made evident through access to energy resources and infrastructures.
---
[1] The calculation is 0.15 metric tonnes per capita in Mozambique and 5.0 metric tonnes per capita in the world, according to the date of the World Development Indicators. People living in cities will have a rate of emissions that would be on average higher than the country's total, but still small in comparison with the world's average.
---
Professor Vanesa Castán Broto is a Professorial Fellow at the University of Sheffield. Her project is part of our Sustainable Development Programme 2016.
Sign up to our email newsletters