The Iraqi and Syrian refugees using body-mapping to share their stories
by Dr Yafa Shanneik
17 Jun 2019
This blog post is part of our Summer Showcase series, celebrating our free festival of ideas for curious minds.
---
What does it mean to flee one's country and undertake the dangerous journey to Europe? What does it mean to suddenly lose everything and be forced to live in a different country? A new home, new school, new friends and a totally new life? To what extent does it influence family lives and the family unit as such? These are questions that a new research project, based at the University of Birmingham and funded by the British Academy, is tackling. The focus is not only on the changes occurring within refugee families, but equally on the impact of the influx of refugees on the host society.
We use art as a research method to allow Iraqi and Syrian women and men to express their thoughts and feelings, on both their refugee journey and their new lives in their host countries. Fleeing one's country puts enormous pressure and stress on an individual, both emotionally and physically. Using the artistic technique of body mapping proved to be very useful in this project, as it allowed participants to embody the emotional and psychological pain caused by their refugee experiences through art. Holding a paint brush, painting and being taught by a renowned artist, in this instance Rachel Gadsden, were for the majority of the participants a new experience. It provided them with a feeling of pride, achievement and self-fulfilment, at a time when they needed it the most. But what are they painting? How are they expressing their experiences? How do they portray themselves? What do they say about their new lives? Do their own narratives confirm widespread notions of their 'vulnerability'?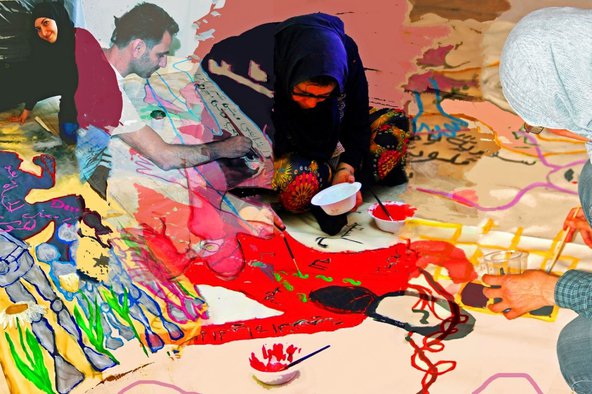 Decades of displacement
Saddam Hussein's decades of authoritarian rule in Iraq, the continuous political instability caused by his fall in 2003 and the rise of the so-called Islamic State (ISIS) in 2014 has forced over three million Iraqis to flee their country since the 1980s. Since the outbreak of the Syrian civil war in 2011, Syrians have become one of the largest groups of refugees, with more than five million civilians forced to flee to neighbouring Middle Eastern countries and to Europe. Many Iraqi and Syrian refugees have headed to Europe directly and settled in countries such as Germany or the UK, others went through multi-local trajectories of displacement in so-called 'transit countries' such as Jordan.
Syrian and Iraqi societies are to a significant extent tribal and patriarchal in nature, with familial or community-based social networks often serving to protect their members. However, these networks may be disrupted or disappear entirely during a migration process, leaving women and children in particular in extremely vulnerable situations, unprotected by their family networks. Women, as well as children, very often find themselves in the most subservient and marginal positions, making them vulnerable to abuse and violence, inflicted either by social and religious communities or the state. Human trafficking operations have played a central role in facilitating immigration. In such circumstances, human traffickers who bring migrants across borders abuse women and children and force them into sexually exploitive occupations, or subject them to physical and sexual abuse themselves. Tackling violence against women and girls is one of the UK government's most important goals. The UK's aid report in 2015 highlights explicitly the challenges the UK faces regarding the conflict in Iraq and Syria and the need to support peace and stability abroad, in order to secure social and political stability in the UK. The UK government is working extensively towards implementing the 'No One Behind Promise', which strives to achieve gender equality, prioritise the empowerment of girls and women and end violence against them, within war zones, such as in Syria and Iraq, and during migration processes in particular.
Women are often limited to gender-specific narratives of female vulnerability within patriarchal social structures. Without neglecting the fact that women are more affected by and subject to sexual and gender-based violence, the over 150 women we talked and worked with in our projects so far have another story to tell. In our art workshops, these women used art and body-mapping to express their powerful stories of resilience, endurance and survival.
Gender roles in a time of war and instability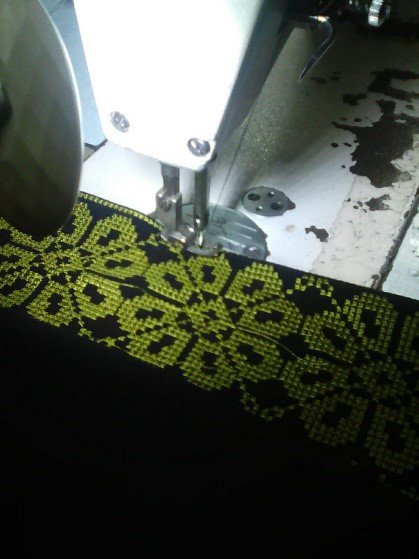 "I never worked with fabric, but I learnt how to produce the most amazing clothes for women's engagement and wedding parties. I go around clothing shops in the city and try to sell them. Now I have my own network of buyers. I earn more money now than my husband used to earn. He passed away five years ago and left me with three children to feed. Yes, they call me sharmuta – a slut – because I go around male merchants in town to see whether they would buy my products. I don't sleep with them. I only sell them my dresses. I don't do anything wrong. Therefore, I will not stop. I cannot stop. I have children to feed. The problem is not me – the problem is their dirty thinking, only because I am a woman and a good-looking one too [laughing]."
The young Iraqi widow above was not the only female refugee in Jordan, the UK or in Germany who struggles with social stigmatisations and sexual harassment, on the way to and from work as well as in the workplace. Women's independence is very often violently attacked, verbally and physically, in order to control women's lives, bodies and sexuality. Refugee women's pending legal status, their socio-economic integration and the degree of their security within the host environment change long-held values on family structures and socio-cultural expectations on gender roles. They also influence women and men's own understanding of their roles which, in most cases, represents a shift from their traditional gender roles within their families. Women and men's roles in family and society inevitably change in time of war and forced migration and society needs to adapt to this development. In order to achieve sustainable change in society's perception, both men and women need to be socialised and equipped to understand these societal changes. This does not solely apply to the refugee communities, but also to the host communities, who are also influenced by the presence of these newcomers.
Through stitching fabric onto their body map paintings or adding pictures of the food they cook to sell on the canvases, women express their attempts to survive. Through art, women can portray how they see themselves: strong in enduring the hardship, without neglecting the challenges they face. "I want to show the world out there that we are not poor victims. One woman like us is better and stronger than 100 men," as one Iraqi in Germany explains. Another Syrian in the UK emphasised women's resilience, saying "wherever we fall we will land straight. I want to paint my head up for these politicians to know that nothing will bend us".
Women in our art workshops see the production of their artwork and the planned art exhibitions as an opportunity to provide a different narrative on Muslim refugee women. It provided them with a space to articulate the challenges they faced, during and after their refugee journey, but also to create a bridge between the refugee communities and the host community. The artwork produced in the workshops helped to facilitate community bonding, integration and above all, as one Syrian in Jordan explains, "a better understanding of what we really are".
---
Dr Yafa Shanneik is Lecturer in Islamic Studies at the University of Birmingham. Her work has received funding from the British Academy's the Humanities and Social Sciences Tackling the UK's International Challenges 2017 programme; Council for British Research in the Levant (CBRL) Pilot Study Award 2018; and the British Academy Sustainable Development Programme 2018, supported by the UK's Global Challenges Research Fund.
Sign up to our email newsletters