Speaking up for the families of people in prison
by Dr Anna Kotova
12 Apr 2019
Recent estimates suggest that about 350,000 children in the UK are affected by parental imprisonment each year. These children, and their caretakers and relatives, often experience a range of difficulties, including financial hardship, grief, the need to travel to visit their imprisoned parent(s), stigmatisation and bullying in school. At present, there is no government body responsible for engaging with these families and no routine statistics are taken to establish precisely how many children, partners, parents, siblings and other relationships are affected by the imprisonment of a relative. The cause of families affected by imprisonment has not yet garnered widespread political support, despite the publication of Lord Michael Farmer's influential report, 'The Importance of Strengthening Prisoners' Family Ties to Prevent Reoffending and Reduce Intergenerational Crime'.
There is a growing body of research on the impact of imprisonment on families. However, as researchers, we need to engage with stakeholder organisations working on the ground to support these children and families, and we also need to learn to engage with policymakers if their experiences are to improve. We cannot simply publish our research and assume it will be taken up and used to shape both policy and practice.
Building relationships with stakeholders
The existing organisations that work with these families, such as Himaya Haven, supporting BAME families in Birmingham, and Children Heard and Seen in Oxford, are often small and local, and struggle to secure adequate funding for their excellent work. As researchers, we need to work alongside them and establish strong, positive relationships. Stakeholders are instrumental not just for research access, but for implementing our research and for making a real, positive difference to the lives of families. In other words, we as researchers should work with stakeholders, not simply "at" them, with the expectation that they will transplant our research findings into their daily practices.
Moreover, we need to maintain those relationships after the end date of any given research project; we can do this by fundraising, speaking at AGMs and other events and providing other forms of practical and academic support.
Getting through to Parliamentarians
Policymakers are often time-poor and juggling numerous competing priorities. Even a simple issue such as arranging a meeting with an MP requires a concise and flexible approach. This opens up an opportunity for creative methods of engagement. As part of this project, myself, Dr Natalie Booth and Kirst Deacon worked with artist and academic, Pen Mendonca, to produce infographics on the experiences of children and families of men and women in prison. This idea was generated at a roundtable discussion about effective engagement, at which a number of participants pointed out that policymakers often do not have the time to read a lengthy report or academic article, but capturing their imagination via a different format is possible. Short films, posters and animation are all mediums that could work well in this respect. They should, of course, exist alongside traditional outputs like reports and articles, but are an effective way of capturing attention and conveying the key messages.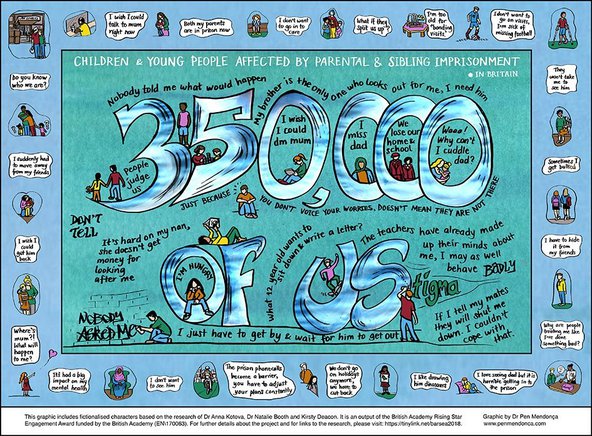 The goal is to use the infographics produced as part of this British Academy-funded project as original, creative and attention-grabbing tools for engaging both with the public and with policymakers. These posters provide an original method of depicting the themes we found in our respective studies, presenting the human stories behind the statistics in a way that highlights the plight of many of the children and families we interviewed. It is my hope that looking behind the statistics and humanising these children and families can pave the way forward towards criminal justice policies that take into account the wide-reaching and often highly negative effects that the imprisonment of a relative can have on their family.
The families we research often feel excluded and invisible. Visual methods can help generate awareness of and conversation about the difficulties they face. Impact, after all, is not simply about the Research Excellence Framework, which is an exercise that many researchers are conscious of when doing research and producing outputs. It's also about broader social consciousness and the desire to contribute to making the world a better place.
---
Dr Anna Kotova is a Lecturer in Criminology at the University of Birmingham. She won a British Academy Rising Stars Engagement Award for her project, 'Families of prisoners: pathways to policy impact'. Download a policy impact and engagement guide for researchers on Families Affected by Imprisonment.
Sign up to our email newsletters