Ramadan fasting in the British Armed Forces
by Dr Asma Mustafa
14 Jun 2018
This blog is part of our Summer Showcase series, celebrating our free festival of ideas for curious minds.
---
The holy month of Ramadan, during which Muslims across the globe refrain from eating and drinking between dawn and sunset, has just ended. Ramadan is one of the five pillars of the Islamic faith, and represents a month not only of abstinence, but also the pursuit of goodness, heightened spirituality and internal reflection. The sacred month can be testing, as Muslims become familiar with hunger pangs and reduced energy levels. In physically demanding career sectors, such as the Armed Forces, how do Muslim personnel manage? What accommodations are in place to support them in their faith while on duty?
An estimated three million British citizens are Muslim, of which 550 serve in the Armed Forces. For several years, the Ministry of Defence (MOD) has provided advice on religious norms to help support people of faith across the Armed Forces. For Muslim Armed Forces personnel, the guidance of the MOD and Muslim chaplains helps to explain to unit leaders and comrades the provisions for Muslim personnel during Ramadan.
What provisions are available in the Armed Forces during Ramadan?
Fasting during Ramadan necessitates changing one's mealtimes. The earliest meal must be before dawn, while breaking of the fast is at sunset. The Armed Forces caters for this by providing an early breakfast and late dinner, including traditional foods such as dates. Halal food in the Armed Forces is now a standard, with several halal ration packs also available for use. 
Armed Forces Participant: "They used to give me time off to go home for Ramadan. But I didn't want to go home to fast in Bradford, I wanted to be with the soldiers in Bristol." [city names changed for anonymity]
The exact dates of Ramadan move back roughly ten days each year, because the Islamic lunar calendar year is ten to 11 days shorter than the solar year. This means that for several years in the UK, fasting lasts for up to 18 hours.  Due to the length of time and the inevitable physical impact this may have, the MOD has clarified that, as long as the work that Muslim personnel are conducting is not compromised, then Muslim personnel may opt for flexible working hours, such as starting work earlier or working through lunch.
Armed Forces Participant: "When it comes to Ramadan and fasting they're quite aware of that. If you've got your fitness test coming up, they could push that back or forward so that's quite good as well.
The effects of fasting on physical tasks and activities
There are times when fasting during Ramadan may be very difficult for Muslim Armed Forces personnel, for example while on operations, when on deployments or while physically training. Where fasting could have a detrimental impact on the soldier, on security, or on the team, the Armed Forces Muslim chaplains are qualified to provide exemptions from fasting for Muslim personnel, with the caveat that any missed fasting during Ramadan is completed another time within the next year.
Armed Forces Participant: "Fasting was [hard] – I fasted in July 2014 just for a few days. I was out on exercise and that was unbearable and I passed out. Then I was unlucky and got bitten by a spider, it was a poisonous spider. So that wasn't great, so I had to stop my fast then. But if it had come to the fact that I'd have to fast during exercise, I couldn't fast."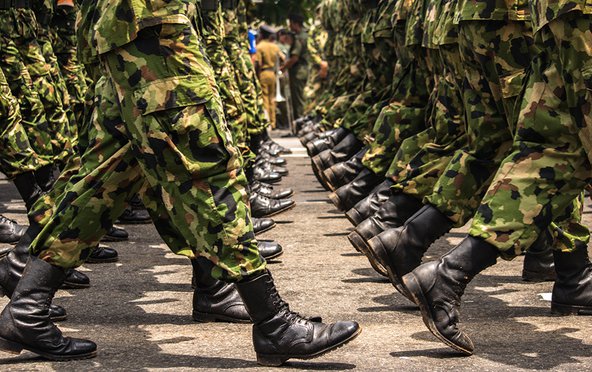 Armed Forces Muslim Chaplaincy
Chaplaincy in the Armed Forces is very significant for Muslim personnel. The role of Armed Forces Muslim Chaplain was established in 2005 and is currently held by Imam Ali Omar. The Ministry of Defence also has an Islamic religious advisor to the Chief of the Defence Staff, Imam Asim Hafiz OBE, who also helped to set up the Armed Forces Muslim Association (AFMA).  The Armed Forces Muslim Association (AFMA) has been proactive in engaging with the MOD to design suitable religious policy that helps accommodate faith rituals into Armed Forces life.  This includes organising Hajj tours (pilgrimage to Mecca) for Muslim service personnel and Umrah (the lesser pilgrimage), as well as other initiatives such as halal ration packs, prayer spaces and a review of the Armed Forces dress code:
Armed Forces Participant: "So the AFMA was established in 2008 and it wasn't the first of an employee support network…basically the need was highlighted because there are very few Muslims serving in the Armed Forces and all spread to the four corners of the world. So wherever there was a British military presence, there may have been one or two Muslim personnel there. So myself working closely with Imam Asim and a few other Muslim service personnel created this organization which in essence –  and that's all it does to this day – is a focal point for Muslims to come to together… we can sometimes be approached by the policy makers and say, look, what about Ramadan, for example, what about halal food, what about keeping beards? We can have that two-way conversation, so in essence it could be that we are available to policy makers to influence policy where it's appropriate."
Are the Armed Forces diverse enough?
The British Armed Forces have made great strides in accommodating the religious observance of Muslim personnel. This has assisted in integrating serving Muslim personnel and encouraging long-term retention, as well as improving possible recruitment outcomes from Muslim communities. There are several other key areas where improvements could be made in order for young British Muslims to consider a career in the Armed Forces, which are highlighted within the exhibit 'Are the Armed Forces diverse enough? Muslims in the Military' at the British Academy Showcase, 21st-23rd June 2018. 
---
Dr. Asma Mustafa is a Research Fellow on Muslims in Britain at the Oxford Centre for Islamic Studies, University of Oxford, and Senior Research Fellow at Linacre College, University of Oxford. 
Sign up to our email newsletters