How our Early Childhood Development Programme is working to transform the destinies of children in developing countries
by The British Academy
19 Sep 2018
The British Academy's Early Childhood Development Programme was launched in 2017 and supports 10 research projects that aim to transform the life chances and destinies of children in their early years across nine low and middle-income countries.
Funded by the UK Department for International Development and the UK's Global Challenges Research Fund, the awarded research projects, held by both UK and international researchers working with partners in the Global South, are problem-focused and interdisciplinary for maximum impact. The projects outlined below illustrate five innovative approaches to yielding new conceptual understanding in the field of early childhood development.
Professor Paula Griffiths, Loughborough University
Poor breastfeeding and infant feeding practices contribute to more than 10,000 deaths annually in Kenya. Since 2002, the Baby Friendly Hospital Initiative (BFHI), which promotes breastfeeding for the first six months of a child's life, has been implemented in Kenya, with promising results. This has been built upon by the Baby Friendly Community Initiative (BFCI), which promotes the benefits of breastfeeding (and other nutritional and health aspects of infant care) at the community level to mothers who deliver their children at home, and provides a continuum of care even for those who deliver in hospitals. However, there is an increasing desire to explore the potential benefits of incorporating additional parenting support messages into this programme, such as play for children's healthy growth and psycho-social development.
Professor Griffiths and her team are endeavouring to build upon the positive results of the BFHI and BFCI by testing the feasibility of incorporating these additional messages into the Baby Friendly Community Initiative and are striving to ensure impact by working closely with stakeholders in the Kenyan Ministry of Health to generate evidence and provide an opportunity to build capacity of health care workers and community health volunteers.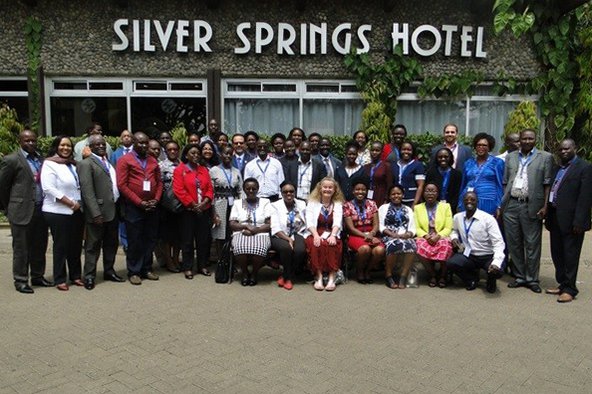 Participants at the BFCI-ECD stakeholder meeting, Nairobi, Kenya. Photo taken by APHRC.
Professor Francisca Mutapi, University of Edinburgh
Over 2 billion people, most of whom are children, are infected with parasitic worms (known as schistosomes), with currently over 4 billion people at risk of infection. Schistosomes are responsible for the highest proportion of parasitic worm-related disease in Africa, with symptoms including abdominal pain and diarrhoea. Infection can cause nutritional deficiencies, anaemia, and can impair natural growth and physical development.
Schistosomiasis is controlled by treating infected people with the drug Praziquantel, which is cheap, efficacious and safe. Studies show that irreversible disease symptoms can be prevented by treating the infection early in childhood, yet World Health Organisation guidelines exclude preschool-aged children (those under the age of five) from treatment programmes. An estimated 50 million African preschool-aged children are currently in need of treatment. In response to this, Professor Mutapi's project aims to provide the evidence base and operational tools to prioritise and implement the treatment of preschool-aged children for schistosomiasis in Africa, thus enhancing their early development.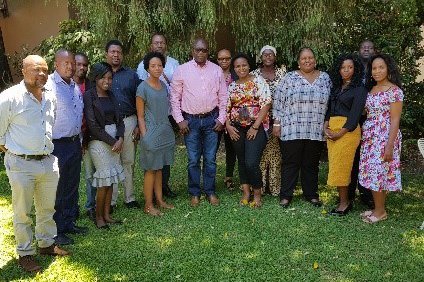 Participants at the early childhood development meeting in Harare.
Dr Keetie Roelen, Institute of Development Studies
It is widely understood that poverty undermines early childhood development (ECD). In turn, poor ECD reinforces generational poverty. Economic strengthening (providing support in the form of cash and asset transfers, for example) may be doubly beneficial: it can improve ECD in the short-term and reduce poverty in the long run.
Dr Roelen's project focuses on the Fonkoze Chemen Lavi Miyò (CLM) programme which empowers Haiti's poorest women to lift themselves and their families out of poverty. The women are supported with a tailored package of skills development, cash and asset transfers, coaching, and service provision. Evaluations of similar programmes demonstrate positive impacts on factors such as food security, while it is well known that economic strengthening can also counteract risk factors in ECD such as undernutrition, maternal depression, and violence. Despite this, evidence for these benefits is lacking, as is a detailed understanding of the underlying mechanisms of implementation and impact. Dr Roelen is therefore studying the pathways from economic strengthening to ECD, and aiming to learn practical lessons about how these measures can contribute to ECD and inform policy and practice debates in Haiti and across the Global South.
Photo taken by Dr Keetie Roelen.
Dr Jolene Skordis-Worrall, University College London
Over 2.4 million children under five are stunted in Uganda; almost one third of all children under five. A further 14% are underweight. Undernutrition accounts for 40% of all child deaths in Uganda. There is strong evidence that undernutrition in early life has life-long social and economic consequences, including poor cognitive and educational performance, and reduced productivity in adulthood. As Uganda rolls out the new Community Health Extension Worker (CHEW) strategy, which aims to provide practical support for unpaid community health workers in rural areas, a unique opportunity exists to develop a scalable Early Child Nutrition and Development (ECND) programme.
Dr Skordis-Worrall's project uses this unique opportunity to develop a cost-effective programme of nutrition and stimulation, targeted at the first 1000 days of life, to improve early childhood development in rural Uganda. The research team aims to assess its feasibility through small scale pre-testing and engage with local stakeholders (including CHEWs), mapping existing programmes and seeking to understand how to embed the new programme within the formal health system, to ensure that the recommendations are acceptable and workable in the Ugandan context.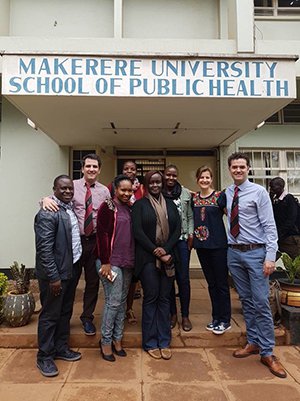 The UCL/ Makerere School of Public Health project team outside MUSPH, Kampala Uganda.
Dr Sharon Wolf, University of Pennsylvania
Dr Wolf's research under the British Academy's Early Childhood Development Programme is part of an on-going project titled 'Quality Preschool for Ghana'. In the first phase, Dr Wolf and her team studied the impacts of two programmes designed to improve the quality of Ghana's universal pre-primary education system (ie, kindergarten for four-to-six-year-olds), targeting teachers and parents.
Results showed that one year after the programme's ended, children exposed to the teacher training intervention had higher social-emotional skills than their peers in the control group. The next phase of the project will assess if there are longer-term impacts (ie, two years post intervention) of the two intervention programmes on children's development as they transition to early primary school. Furthermore, the project will examine if certain characteristics of primary school and classroom settings support sustained impacts.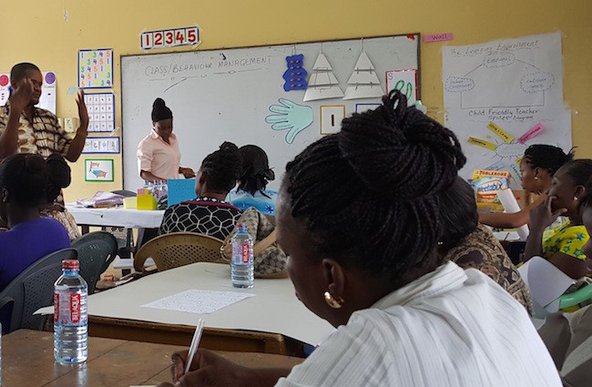 Teacher training in Ghana
Find out more about the Early Childhood Development projects supported by the British Academy.
Sign up to our email newsletters