A closer look at Mughal Emperor Jahangir depicted on the hourglass throne
by Dr Ursula Weekes
5 Apr 2018
In episode 5 of the BBC series Civilisations, Simon Schama FBA magisterially discusses one of the most celebrated paintings in all of Mughal art, Jahangir preferring a Sufi Shaikh to Kings by Bichitr, c. 1615-18.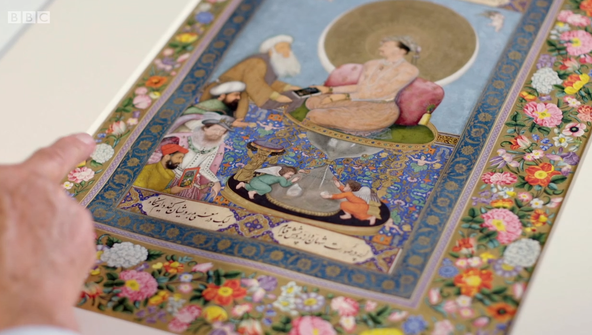 Simon Schama holding the painting by Bichitr, Jahangir preferring a Sufi Shaikh to Kings, c. 1615-18; 25.3 x 18.1cm. Smithsonian Institution, Freer Gallery of Art, Washington DC.
Schama's narrative of the Triumph of Art (the title of the episode) has distinct echoes of Ernst Gombrich's Art and Illusion, which, brilliant as that classic is, underpins a Euro-centric view of the meaning and development of style as a pursuit for pictorial illusion. Schama clearly finds greater empathy with the bursting three-dimensionality of western illusionism, which he states "body-slams the beholder with its meaty, muscular life-size figures," over the miniature paintings of the Mughals who "could barely imagine the revolution in looking that was unfolding in western art." But the Mughals were equally revolutionary in a different kind of looking and in a unique ability to draw upon the styles, symbols and philosophical ideas of multiple cultures to create polyvalent images which could speak to the multi-ethnic, multi-faith nature of their court.
Mughal Neo-Platonism and the Art of Miniature
The Mughals' looking was intellectually, rather than psychologically, driven by a desire for the image not simply to imitate the base world of physical appearances, but to be agents of participation in a higher reality of existence. The close-up shots of Bichitr's painting in the BBC episode reveal a breath-taking level of skill. 
Bichitr, detail of Ottoman Sultan and James I of England, Jahangir preferring a Sufi Shaikh to Kings, c. 1615-18; 25.3 x 18.1cm. Smithsonian Institution, Freer Gallery of Art, Washington DC.
Details of only a couple of centimetres stand the test of magnification to the size of our enormous television screens and still appear rich in colour, tone and infinitesimally small brushstrokes. This is a completely different kind of body-slam to European art; an illusion of the microscopic not the three-dimensional. The artist's ability to depict that which even the naked eye cannot see is a metaphor for the painting's capacity to lay bare the underlying truths of a divine order of things. Bichitr is not merely the inventor of allegories, he is almost like a prophet.
Bichitr, detail of self-portrait, Jahangir preferring a Sufi Shaikh to Kings, c. 1615-18; 25.3 x 18.1cm. Smithsonian Institution, Freer Gallery of Art, Washington DC.
The contemporary Persian couplets above and below the painting explicitly refer to the Mughals' Neo-Platonic understanding of images, "By God's grace Shah Nuruddin Jahangir, son of Akbar Padshah, is monarch of both external form and inner intrinsic meaning. Although outwardly kings stand before him, inwardly he always keeps his gaze upon the dervishes." The invocation of European artworks in the depiction of the Ottoman Sultan (derived, at some remove, from Bellini) and James I of England (derived from John de Critz), aligns them with mere outward form, while Jahangir with his cosmological halo participates in a world of inner meaning, together with the Shaikh, identified as Shaikh Husain of the Indian Sufi Chishti sect. The artist is thus like an actor who can perform in different styles to convey messages appropriate to each subject.
The hourglass throne of Jahangir
A key element of the painting, which Schama did not have time to discuss, is the hourglass throne on which the Emperor Jahangir sits. An inscription on the hourglass, apparently written by the young angels playing at its base, says "Allah is great. O Shah may the span of your reign be a thousand years".
Bichitr, detail of hourglass, Jahangir preferring a Sufi Shaikh to Kings, c. 1615-18; 25.3 x 18.1cm. Smithsonian Institution, Freer Gallery of Art, Washington DC.
The start of the second Islamic millennium, the year AH 1000, corresponds to 1591-2 of the Gregorian calendar, during Akbar's reign. The Mughals were deeply aware of astrological, solar and lunar events, cycles and omens. The sand is already running through the hourglass in recognition that the second millennium had already begun when Jahangir assumed the throne in 1605. But this is no barrier to his self-styling as the messianic ruler who introduces a new millennial era. Jahangir is indeed a master of "imperial self-congratulation," as Schama points out. But is that not the business of all ruler imagery?
Bichitr emphasizes the object-hood of the hourglass. It is clearly a real European goldsmith's object that had been brought to the Mughal court. The first documented English visitors to the Mughal court in 1584 included a goldsmith called William Leedes. Ralph Fitch's account of the voyage says that he entered Akbar's service, received a house, five slaves and a horse from Akbar, but unfortunately nothing is known of him thereafter. The hourglass can be compared to a slightly later gold hourglass made by Matthias Zoller at Augsburg in 1671.
Matthias Zoller, Hourglass, Augsburg 1671, National Museum, Warsaw. 
We know that other Augsburg objects were brought to the court from the gold automaton of Diana on a Stag that appears in a painting of similar date, in the hands of Jahangir's courtier, Khan Alam.
(Left) Abu'l Hasan, detail of Khan Alam holding a European automaton of Diana and the Stag, Jahangir entertaining Shah Abbas, 25.0 x 18.3 cm. Smithsonian Institution, Freer Gallery of Art, Washington DC. (Right) Matthias Walbaum, Diana on a Stag, Automaton, Augsburg, c. 1600-1610. 34 x 26.4 x 10.6 cm. Royal Ontario Museum, Toronto.
The automaton, with it clockwork interior mechanism, and the hourglass both speak of the European obsession with the quantification of time. Jahangir literally sits above and outside quantifiable time in this painting. Likewise, Bichitr, for all his selective borrowing of European naturalism and symbol, rejects the quantifiable mathematics of European single-point perspective. Nowhere is this more obvious than in the Venetian ornament design of the carpet which is depicted in an entirely Persianate two-dimensional manner. This is the exact opposite of Holbein's illusionistic depiction of an Islamic Anatolian carpet in The Ambassadors.
With hindsight, however, we might interpret the hourglass as a symbol of Jahangir's shortcomings as a truly great Emperor. The hourglass was crucial for maritime navigation as it provided a reliable means to measure time at sea. Jahangir's favourite wife, Nur Jahan, owned trading ships, but she was an exception among the Mughals in this regard, as she was in so many ways. While Jahangir enjoys the notion that the kings of the world stand before him, the Mughal failure to look outwards and establish themselves as a maritime power in the seventeenth century fatally undermined their empire in the long term. Schama suggests that the "implausible conceit" of Bichitr's painting is that Jahangir actually prefers the Muslim Sufi Shaikh over kings, but actually, his problem was that he really did prefer them. 
---
Dr Ursula Weekes is an independent Art Historian and Associate Lecturer on Mughal art at the Courtauld Institute of Art, London. She has previously worked at the Ashmolean Museum, Oxford and at Jawaharlal Nehru University in Delhi. Her publications include Early Engravers and their Public (Harvey Miller 2004), and her book on Mughal Court Painting in India is forthcoming (Reaktion Books Ltd). Her research project, 'The Great Mughals and the Art of Europe', was funded by a British Academy/Leverhulme Small Research Grant.
Sign up to our email newsletters