From the Archive: One hundred years ago (Election of new Fellows press release 1903)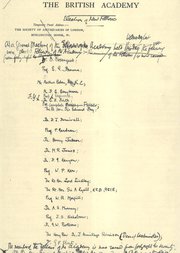 The print version of this article can be downloaded as a PDF file.
Published in Review, Issue 7.
---
Following the establishment of the British Academy by Royal Charter in August 1902, one of the most pressing tasks was to increase the size of the Fellowship beyond the founding forty-eight. Under 'Preliminary Arrangements', the first election of new Fellows was at a General Meeting on 25 March 1903, rather than at the AGM later in the year. Illustrated is the draft press release recording this March meeting. The elections raised the size of the Fellowship to seventy (there are now over 780 Ordinary Fellows). The press release also records the delivery on that occasion of the first two papers ever to be read at the Academy: Professor John Rhys FBA on 'Studies in the Origins of Irish History', and Mr Michael Ernest Sadler on 'The Ferment in Education in Europe and America'. The letterhead gives the Society of Antiquaries as a 'temporary postal address' — the new Academy would in fact remain itinerant for many years, not finding a permanent home until 1928.
Sign up to our email newsletters