Understanding Digital Poverty and Inequality in the UK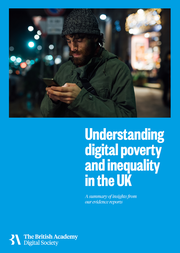 Year

2022

Number of pages

51
In 2022, the British Academy commissioned six projects that examined different aspects of digital poverty in the UK, to draw upon the vital insights from the SHAPE disciplines (social sciences, humanities, and the arts for people and the economy) to inform policy thinking around the crucial challenge of addressing inequality – and specifically, the relationship between digital technology and inequality – across the UK.
As digital technology has become increasingly integrated with modern life, the ability to digitally engage has become more and more essential to interacting fully with society and the economy. Systems and services in both public and private contexts are shifting their focus to online forms of delivery, and while this brings new opportunities for social impact and benefit, it also risks creating new challenges and exacerbating inequalities for those who lack the capacity to digitally engage, whether due to insufficient access, skills, resources, or motivation.
Disparities in levels and types of digital access, digital skills, usage, and outcomes exist across the UK, aligning with the 'three levels' of the digital divide: poor access to digital technologies (first level), poor digital literacy and skills (second level), and a reduced ability to exploit digital resources and transform them into tangible social benefits (third level). We note the Digital Poverty Alliance's definition of 'digital poverty' as "the inability to interact with the online world fully, when, where, and how an individual needs to." As we discuss in this report, inequalities and technologies are both subject to change over time, so it is important to have a flexible definition – the shape of digital poverty may look different from place to place and time to time.
We recognise that a variety of contested terms exist in this space, such as digital exclusion and inclusion, digital inequality, digital poverty, and the digital divide. We see the lessons in this report as relevant to understanding how to support those people who are most marginalised and at need in the UK (especially in relation to digital engagement), irrespective of the terms and definitions one may choose to adopt.
This report highlights the central themes and findings that emerge across the evidence base of outputs produced by the commissioned projects and uses these findings to identify six policy lessons to shape policy thinking on how to effectively address digital poverty and its impacts across the UK.
Sign up to our email newsletters