Understanding the career paths of AHSS graduates in the UK and their contribution to the economy
by The British Academy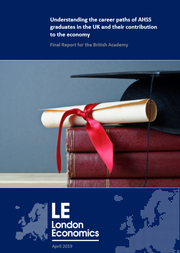 Year

2019

Number of pages

81
Summary
Comprising approximately 46% of the 2.32 million university students in the United Kingdom, 55% of global leaders and 58% of FTSE Executives, arts, humanities and social science (AHSS) graduates are a core focus for the British Academy's objective of promoting the public value of the humanities and social sciences. To this end, the Flagship Skills Project (FSP), which began in January 2017, aims to articulate the skills that are inherent to the study of AHSS.
In order to broaden the Academy's understanding of the outcomes achieved by graduates in the Arts, Humanities and Social Sciences (AHSS), London Economics were commissioned to undertake a detailed analysis of the patterns and trends in the sectoral and occupational destinations of AHSS undergraduates and postgraduates over the last 20 years using information from the UK Labour Force Survey (LFS).
The analysis shows that graduates in the arts, humanities and social sciences are just as employable and just as immune to economic shocks as their counterparts in STEM (science, technology, engineering and maths), while also enjoying more varied careers.
Sign up to our email newsletters