Theology and Religious Studies provision in UK Higher Education
by the British Academy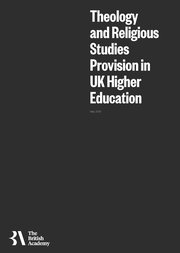 Year

2019

Number of pages

34
Summary
Theology and Religious Studies (TRS) disciplines are studied by over 10,000 students at both public and private higher education providers in the UK. The study of religion in UK higher education attracts students from around the world and continues to provide professional training and qualifications for authorised religious personnel and other religious vocations.
However, as this report reveals, the overall trend in enrolment onto TRS courses in UK higher education is downward, in contrast to other humanities subjects like philosophy and history.
There were around 6,500 fewer students on Theology and Religious Studies courses in higher education institutions in 2017/18 than there were in 2011/12.
Sign up to our email newsletters