Situating climate change: understanding the importance of climate, place and community
by Professor Georgina Endfield and Sue Jarvis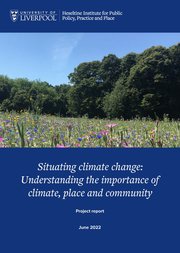 Year

2023

Number of pages

34
Summary
This report considers walking as an inclusive method to engage local communities and to gather evidence and insight on the things that matter on environmental sustainability. Through the use of walking methodologies with local communities, it explores the understandings of climate change in local neighbourhoods, highligting the local issues faced by residents, and providing insight for how public sector officials can work with residents to inform future climate change communication and engagement policies.
Specifically, the report explores:
Community engagement with place as a means of better understanding the relationship between local weather in place and global climate change
How local understanding might be used to inform planning around place-specific climate change communication and engagement.
Sign up to our email newsletters