The shifting face of workplace pensions
by Professor Anthony Neuberger and Professor Colin Crouch FBA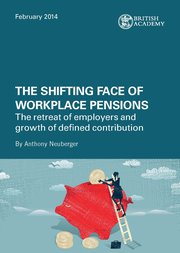 Year

2014

ISBN

978-0-85672-612-5

Number of pages

64
Summary
The British Academy presents a report looking at occupational Defined Contribution (DC) pension schemes.
The report compares DC pensions to Defined Benefit (DB) designs, drawing out the key advantages and disadvantages of both, analyses the variety of DC pensions that have been implemented around the world, and then focuses on the key design areas of occupational DC pensions: contribution rates, investment, decumulation and governance. Finally, the report draws out specific implications for the current debate on pension provision in the UK.
The report is authored by Professor Anthony Neuberger, Professor of Finance at Cass Business School, and includes an introduction by Professor Colin Crouch FBA (Co-ordinator EU FP7 Project GUSTO under which the report was originally written).
This report is published thanks to the support of the European Union's Seventh Framework Programme for Research - Socio-economic Sciences and Humanities theme (contract nr 225301 - project GUSTO). 
Sign up to our email newsletters