Scotland: Enlightening the Constitutional Debate
by The British Academy and The Royal Society of Edinburgh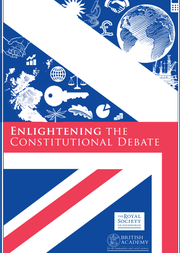 Year

2014

ISBN

978 0 902198 27 2

Number of pages

254
Summary
Between January 2013 and March 2014, the British Academy and the Royal Society of Edinburgh held a series of 11 focused events to look deeper into the issues affecting Scotland and the rest of the United Kingdom following the referendum on Scottish independence, which was due to take place on 18 September 2014.
This book contains a synthesis of the discussions which took place at each of these events, and also includes an introduction by Professor Iain McLean FBA FRSE, Vice President of Public Policy at the British Academy, and Professor Alan Alexander, General Secretary of the Royal Society of Edinburgh.
Professor Vernon Bogdanor FBA, Professor Michael Keating, Professor John Curtice FBA and Professor Adam Tomkins (panellists at the British Academy event held on 5 March 2014) answer the questions.
Can you tell us what it would mean for the future of Scotland if the Scottish people vote 'yes' in the September referendum?
Sign up to our email newsletters