Rethinking the Principles of Public Service Media for the Digital Society Roundtable: Summary of Discussion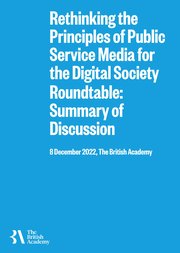 Year

2023

Publisher

The British Academy

Number of pages

5
Summary
To mark the centenary of the BBC's formation, the British Academy held a roundtable discussion in December 2022 examining the role, achievements, and future of public service media in the UK.
The event brought together experts to rethink some of the underlying principles of public service media (PSM) for the digital age. This included discussions around the changing nature of the cultural and social environment within which PSM is immersed, and the synergies between PSM and new forms of digital media infrastructure. The discussion addressed these points in relation to the underpinning principles of PSM and how they might be revised for the digital age as well as reflecting on the history of the BBC, Channel 4 and ITV as models for public service media organisations in the UK.
The event was co-chaired by Professor Georgina Born OBE FBA, Professor Ian Christie FBA, Professor Sonia Livingstone FBA and Professor Robin Mansell FBA. The event also featured provocations from Lucy Crompton-Reid, Wikimedia UK and Bill Thompson, BBC.
This note summarises the main points discussed at the roundtable, and also builds upon the discussion, developing further some of the points that were covered at the event.
Sign up to our email newsletters