Rethinking Cultural Heritage and the Just City: Why, What, and How?
by Rike Sitas, Beth Perry, Victoria Habermehl, Fred Odede, Patrick Hayombe and Graphics Design (KANDS Collective)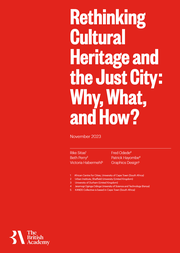 Year

2023

Publisher

The British Academy

Number of pages

17
Summary
Urban challenges require urgent action to achieve justice, sustainability, and well-being for people and the planet.
Increasingly, culture and heritage are recognised as fundamental in addressing these challenges. Yet cities struggle to centre these concerns in practice. More attention needs to be paid to how cultural heritage fosters urban well-being and a sense of belonging, and what policies, priorities, and politics are needed to positively effect change.
This is why a team of researchers from the UK, South Africa and Kenya were funded by the British Academy's Sustainable Development Programme between 2018-2021 to investigate how cultural heritage values could be productively mobilised to support more sustainable livelihoods in Cape Town (South Africa) and Kisumu (Kenya). Through extensive co-produced research with communities, artists and policy-makers, we mapped challenges, developed heritage interventions, and mobilised ideas, networks and capacity, to support change on the ground.
The Sustainable Development Goals (SDGs) aim to 'leave no one behind'. Yet while the focus of the SDGs is extensive, cultural heritage is only explicitly mentioned twice. Moreover, the SDGs suggest linear and unproblematic relationships between fixed types of cultural heritage and the wider sustainability agenda.
Cultural heritage is often conceived in limited and narrow ways, as either tangible (e.g. built form, artefacts, and architecture) or intangible (e.g. customs, beliefs, and practices). This binary can result in artificially separating personal practices on the one hand, and material artefacts on the other, forgetting that the human and material are inextricably interconnected.
Global development objectives tend to consider cultural heritage as fixed as opposed to fluid. Framing heritage as singular and static runs the risk of commodifying heritage without taking into account lived practices. Heritage is also complex and contested. There are many different claims and interests as the priorities of different groups vary.
Not everything that people value as heritage is officially counted as heritage. What becomes 'heritage' is often designated from outside the communities that have the most at stake, for instance, through legislation or international recognition (for instance, via World Heritage Site status).
In this briefing we draw on our British Academy funded project - Whose Heritage Matters? Mapping, making and mobilising heritage values for sustainable livelihoods in Cape Town and Kisumu (2018-2021) - to set out two responses to these challenges.
Sign up to our email newsletters