Society Counts: Quantitative Skills in the Social Sciences and Humanities
by the British Academy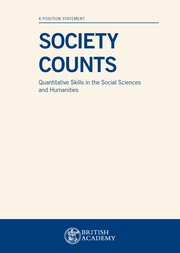 Year

2012

Number of pages

12
Summary
The British Academy has launched a Position Statement on the issue of a quantitative skills deficit in the humanities and social sciences. The statement outlines the problem of a deficit, the need for quantitative methods, as well as the range of initiatives currently underway in order to meet this challenge.
Well-rounded graduates, equipped with core quantitative skills, are vital if the UK is to retain its status as a world leader in research and higher education, rebuild its economy, and provide citizens with the means to understand analyse and criticise data. Quantitative methods facilitate 'blue skies' research and effective, evidence-based policy. Yet, the UK currently displays weak quantitative ability in particular, but not exclusively in the humanities and social sciences.
Society Counts calls for a joint approach and the need for a national strategy for action, avoiding fragmented policy and practice to confront this skills deficit. The statement outlines the need to change behaviour in order to ensure that the UK retains its place as a leader in research and higher education, and that our graduates are equipped with the skills necessary for competitiveness, professional development and employability.
The statement presents the step-changes needed to meet the challenge, and introduces the Academy's own strategy – including the establishment of a High Level Strategy Group for Quantitative Skills, which includes representatives from BIS, the ESRC, ONS, UKSA, Nuffield Foundation, RSS, ACME, UUK and the Russell Group. The British Academy welcomes the new £15.5 million funding programme by the Nuffield Foundation, ESRC and HEFCE to create specialist Quantitative Methods Centres. We are delighted that the statement is also supported by a joint letter from key learned societies and subject associations.
Welcoming the statement, the Rt Hon David Willetts MP, Minister of State for Universities and Science, said: "The British Academy position paper highlights why it is so important that we work together – across government, higher education, schools and industry – to address the need for greater proficiency in quantitative skills. We need to have a workforce, and a society, equipped with the skills to evaluate and analyse the increasing amounts of complex data used in public policy, the media and our everyday lives."
Sign up to our email newsletters