Punching our weight: the humanities and social sciences in public policy making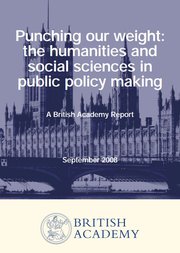 Year

2008

Number of pages

67
Summary
This is the question at the heart of this report, which has investigated the contributions made by the humanities and social sciences to public policy making. Our findings show that while these contributions are often extensive, there remains considerable scope to improve the effectiveness of public policy making through increased use of humanities and social science research.
The review working group which issued the report was chaired by Sir Alan Wilson FBA FRS.
The report was launched at the British Academy on 17 September 2008. Speakers included Dr Ian Pearson MP, Minister of State for Science and Innovation.
Sign up to our email newsletters