Measuring success: league tables in the public sector
by Beth Foley and Harvey Goldstein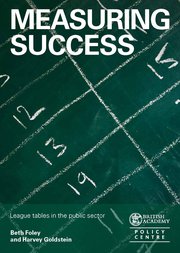 Year

2012

ISBN

978-0-85672-600-2

Number of pages

80
Summary
Institutional rankings or 'league tables' are now widely used in the public sector. Employed in areas such as health, policing and education they help determine whether schools or hospitals are deemed to be 'failing', whether police forces are tackling crime effectively and how students rate their university courses. But despite being widespread, their application is still highly contentious.
This report examines the use of league tables in education and policing, and reviews the available evidence to determine the benefits and the problems associated with their use. The report concludes that good evidence about league tables is in short supply, which has only helped fuel their controversy; it also highlights the limitations of league tables and recommends that wherever they are produced they should be accompanied by prominent 'health warnings'.
Furthermore, the authors suggest that some of the negative side effects of league tables could be reduced if they are used only as an internal tool to improve performance by the institutions involved and not published or made publicly available.
---
The report was launched at the British Academy on 29 March 2012 with an invited audience of around 50-60 academics, policymakers and other practitioners with an interest in this area.
The event was chaired by Professor Ian Diamond FBA, Vice-Chancellor of the University of Aberdeen and included presentations from:
• Professor Harvey Goldstein FBA, Professor of Social Statistics at the University of Bristol
• Professor Sir Adam Roberts KCMG PBA, President of the British Academy
• Mr Kevin Courtney, Deputy General Secretary of the National Union of Teachers
• Mr Phil Baty, Editor of Times Higher Education Rankings
• Chief Inspector Kevin Boyce, Lancashire constabulary
Sign up to our email newsletters