Languages Provision in UK Further Education
by Ian Collen, Leanne Henderson, Minchen Liu, Aisling O'Boyle and Jennifer Roberts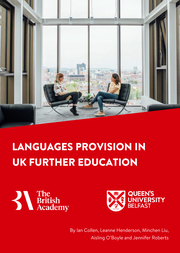 Year

2023

Number of pages

133
Languages Provision in Further Education (FE) has sought to understand the extent of the provision and uptake of languages (other than English and Welsh) in the FE sector in the United Kingdom, and to ascertain the trends in that provision over the past 20 years.
Using multiple primary and secondary sources, the evidence we assess includes a systematic style review of existing literature, a secondary data analysis of existing National Statistics on languages uptake, a survey of FE staff, a survey of FE students and in-depth interviews with key stakeholders.
The systematic style review of literature provides, for the first time, replicable evidence that there is a dearth of research in relation to languages provision in FE in the UK over the past 20 years. This branch of language learning has been neglected from research agendas and the voice of language learners and teachers in FE has rarely been heard. Narratives on the decline of languages in the UK have focused almost exclusively on declining entries in secondary and Higher Education, particularly in post-1992 universities.
The secondary data analysis shows that low levels of participation in languages in FE reflect years of underinvestment and an absence of clear progression pathways through appropriate vocational qualifications. The number of FE colleges with no provision at all in languages is substantial. There are 'cold spots' for languages in Higher Education in the north, east and southwest of England, particularly in universities with lower-than-average entry tariffs. It is of no surprise that there is next to no provision in FE in these areas too. Given that almost all students of FE live permanently within commutable distance of their FE college, most FE students in the UK do not have the option to learn a language as part of or alongside their studies or training.
The staff and student surveys were largely completed by those with a positive disposition to languages. Nevertheless, they reveal a frustration that languages are undervalued by leadership teams and there is a lack of strategic direction about the future place of languages in FE settings. French and Spanish are the main languages taught, demonstrating a similar picture to that found in the compulsory school system. Opportunities to engage in other languages, including ancient languages such as Latin, are very rare.
Sign up to our email newsletters