Knowledge exchange in the SHAPE disciplines
by the British Academy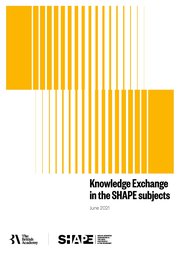 Year

2021

ISBN

978-0-85672-664-4

Number of pages

43
Following the first results of the Knowledge Exchange Framework (KEF) in England, the British Academy has released Knowledge Exchange in the SHAPE subjects, presenting a diverse range of case studies showing that knowledge exchange in SHAPE disciplines yields significant social, economic and cultural benefits.
"Knowledge exchange" describes the connections and collaborations that universities have with businesses, public services and communities. It is a two-way process where business and wider society applies the knowledge and skills generated in universities, and insights from the wider world inspire the research and teaching within universities.
Whether it is supporting the police to reduce domestic abuse and better support victims, providing our leaders with the evidence they need to decide public spending, enriching and regenerating local communities, or giving people enjoyable and profound experiences, knowledge exchange in SHAPE disciplines is consistent and effective. The wider societal benefits of SHAPE disciplines have been underscored during the COVID-19 pandemic, where SHAPE insights have been vital to working with local communities and understanding and influencing societal behaviours, for instance about facemasks and vaccines.
The report aims to support departments and institutions complete submissions to the KEF and encourages SHAPE researchers and research managers to build and promote their knowledge exchange activity through the KEF dimensions and beyond. The report also makes suggestions for further development of the KEF to better capture this value.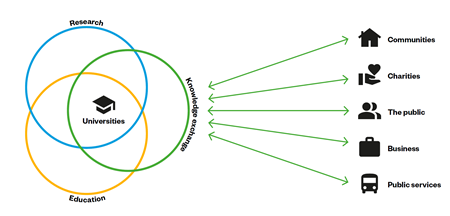 As shown by the diagram below, representing the case studies, 'Knowledge Exchange in the SHAPE disciplines' presents examples across all dimensions of the KEF, including additional activities, and across all SHAPE subject areas.
Sign up to our email newsletters